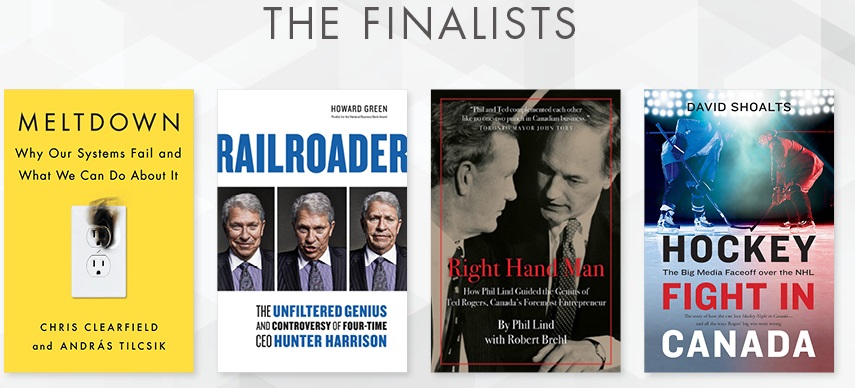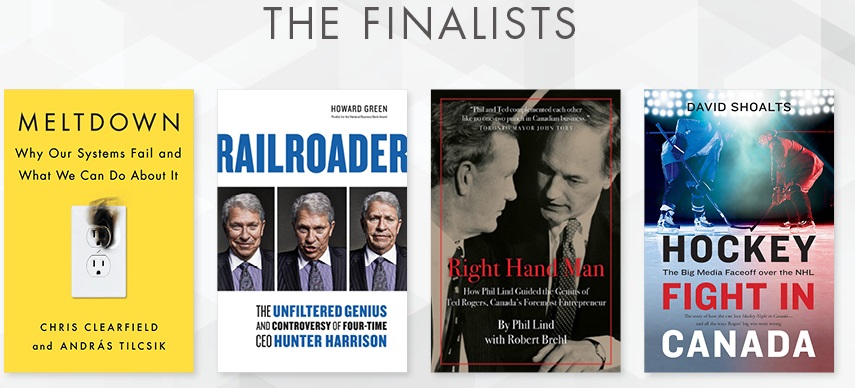 National Business Book Award
The National Business Book Award was founded nearly 35 years ago and has grown into the most respected business literary award in Canada. The $30,000 prize is award annually to the author of a Canadian business book selected by a jury chaired by Peter Mansbridge and includes David Denison, corporate director and former CEO, Senator Pamela Wallin, Leonard Waverman, dean DeGroote School of business, McMaster University, Anna Porter, author and former publisher and Deirdre McMurdy business commentator and adjudicator.


Past winners are business leaders, academics and journalists such as Jim Leech (Chancellor Queen's University) and Jacquie McNish (WSJ reporter and 3-time winner), Hon Chrystia Freeland, Daniel Levitan (Neuroscientist and professor) and Chris Turner (journalist) to name a few.

The 2019 winners are Chris Clearfield and András Tilcsik for Meltdown: Why Our Systems Fail and What We Can Do About It. The complete list of winners can be found at www.nbbaward.com.
We are seeking organization to join law firm Bennett Jones as a presenting partner at the $50,000 level or as a lead sponsor with naming rights at $100,000.


The National Business Book Award is a bespoke program that enables our strategic partners to forge relationships and connections with an elite audience who value fact-based and thoughtful content created by Canada's thought leaders and writers. We work with each partner to make the NBBA work for them.


Freedman & Associates is honoured to have managed the National Business Book Award (NBBA) for most of the award's history. The NBBA has become the most respected business literary award in Canada with a jury of high-profile business leaders, chaired by CBC's Peter Mansbridge.

Sep 9, 2019 - Sep 9, 2020
Annually
National Business Book Award
There are several opportunities for our partners to make the most of their involvement.

• Exclusive award ceremony (by invitation only) attended by C-suite executives, media, literary and thought leaders guests where guests mingle with and get to know authors and member of the jury.

• Extensive media outreach and coverage. The NBBA communications cycle is organized around 5 milestones: nominations; jury deliberations; shortlist; award ceremony; and reporting. Last year there were 636 stories appearing in Canada, the U.S., and internationally.

• Talks and events (hosted by partners) where authors are invited to speak

• Podcasts with authors who share their stories

• Social media initiated conversations online with business leaders, influencers and key national media personalities

• Advertising and in-kind media coverage

Detailed information and analytics in these areas are available on request.

Locations
Toronto
Audience (Participants + Spectators)
10000
Ages
Primary: 41-50 years old
Secondary: 51 years old and over
Primary gender
Male
Ethnicity

Household income
100k+
Upload a logo for your organization
×