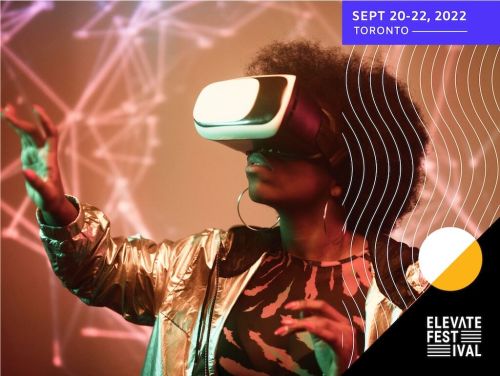 Interac Corp. ("Interac") and Elevate announced today they have entered into a three-year sponsorship to engage the innovation community and wider public through events and resources that explore the role of emerging technologies in making the future of money, data, and verification accessible to more Canadians.  
"We are thrilled to extend our relationship with Elevate. Exploring emerging technologies allows us to develop new ideas, frameworks and value exchanges that can help foster inclusivity and open new economic opportunities for Canadians," said
Debbie Gamble
, Chief Officer, Innovation Labs & New Ventures at Interac, and member of Elevate's Founding Board. "Through our three-year sponsorship with Elevate, we are helping bring together creators and innovators to share their knowledge and insights to promote more inclusive digital solutions for all Canadians."

Art as a catalyst for inclusive innovation
The partnership will kick-off at Elevate Festival with the
NFT Art Gallery
. The gallery is a celebratory culmination of work from new and emerging digital artists, including those from 
the residency program
, where creators from underrepresented communities will spotlight their artwork on a global stage. Interac is partnering with The Remix Project to encourage gallery attendees to reflect on what an inclusive digital future means to them by participating in the development of an original piece of digital art. Starting on
September 20
with a dual purpose of exhibition and education, the gallery will be available to
Elevate Festival ticket holders
before opening to the public in October.
"The creator economy is a thriving and ever-evolving industry. And yet, some creators are not being elevated," said
Lisa Zarzeczny
, Co-Founder and CEO of Elevate. "The rise of the metaverse and the use of NFTs has opened doors to unimaginable innovation. This shift inspired Elevate to launch net-new programming that provides underrepresented creators with the tools they need to harness these opportunities. This is a powerful example of what happens when technology and the arts intersect. Thanks to the support of Interac, a cohort of creators can showcase their work at the NFT Art Gallery. We're eager to continue advancing inclusive innovation across
Canada
through partnerships like this, increasing access to programming, mentorship, and more."    
Elevate Festival, running from
September 20-22
, 2022, will be held in-person this year for the first time since 2019, and features an esteemed line-up of speakers, including
Venus Williams
,
Chris Hadfield
,
Andre De Grasse
,
Krista Kim
, and Mayor
John Tory
. Tickets can be purchased
here
. Women in tech are eligible for a 50 per cent discount by registering at ElevateFestival.ca/women/.               
Organizations connected to this article
Interest areas in this article