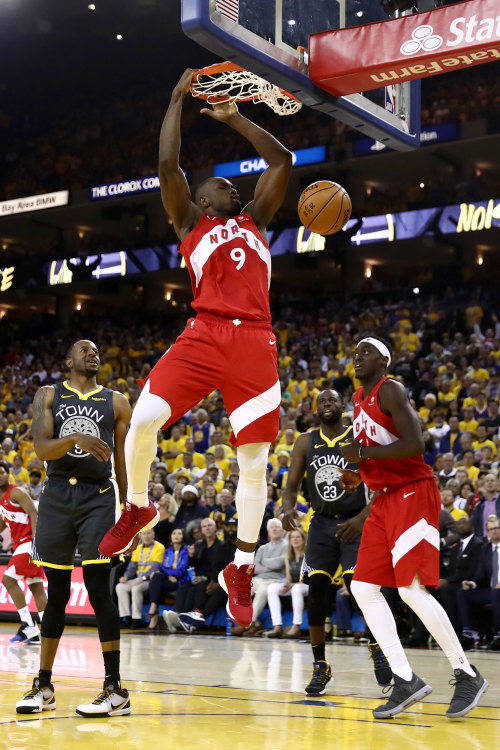 The Toronto Raptors' recent winning streak has cost McDonald's a pretty penny. In 2018, the chain kicked off a major sponsorship deal that mandated stores in Ontario, Canada, would give away a free medium french fries every time the team made 12 three-point shots in a game — and the agreement has already cost the fast-food behemoth more than $5 million!
Less than three weeks after the deal was finalized, the Canadian basketball team traded its star forward, 
Demar DeRozan
, to San Antonio for an injury-plagued player named 
Kawhi Leonard
. The Leonard trade also brought skilled three-point shooter 
Danny Green
 to the Raptors, meaning the team soon began scoring many more three-point shots than initially anticipated.
In fact, that coveted three-point threshold was reached 44 times in the regular season and another 10 — so far — in a much longer playoff run. The Raptors are currently facing off against the Golden State Warriors in the NBA finals and are leading by one game.
That means McDonald's has given away more than two million medium-size orders of french fries to date. According to a Canadian publication called the Financial Post, that figure is nearly three times the 700,000 orders the company projected its Ontario restaurants would give away during the promotion, and has cost McDonald's an estimated 
$5.8 million
.
Chuck Coolen, head of marketing for McDonald's in Eastern Canada, told the outlet that, based on previous seasons, the restaurant chain predicted the Raptors would likely hit at least 12 three-pointers in about half of the 82 games in the regular season, but wouldn't exceed that estimate by much.
In addition to not foreseeing a deluge of three-pointers, the Chicago-based company also underestimated Ontario customers' appetite for free food. For example, in Game One of the finals, where the Raptors scored 13 three-point shots, McDonald's gave away a record 80,000 orders of free fries. Some franchises even had to hire an extra fry cook for the lunch rush on "free fry days" just to keep up with the demand.
Coolen admitted that he is "of course" concerned McDonald's is hemorrhaging potato pieces, but is instead choosing to focus on the bright side. Since customers must download and use the McDonald's app to redeem their fries, the hope is that this promotion will result in many additional users. Tweeted one happy fan: "Props to @McDonalds franchisees for their largesse! They have now given away $5.8MM in free fries as part of their three point promotion with the @Raptors. Take that @ChikfilA!"
Article by Samantha Leffler as posted on US Magazine.
Click
here to view McDonald's
profile.
Organizations connected to this article
Interest areas in this article