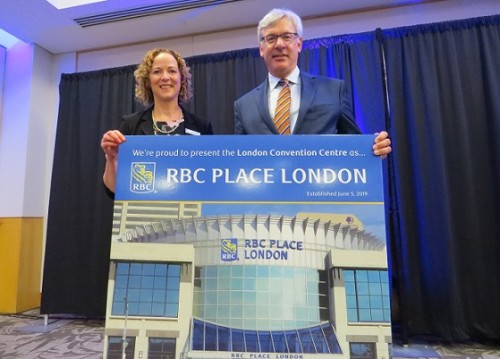 The London Convention Centre has a new name.
The city-owned building on York Street will now be known as RBC Place London under a 10-year sponsorship deal with Canada's largest bank.
"It really is exciting for us," said convention centre CEO and General Manager Lori Da Silva. "RBC Place London has a bit of cachet about it. It really does feel that we are in the big leagues in terms of our ability now to be out there, out front. It is a great partnership for us… We certainly operate in a very competitive world. It helps elevate the brand and give us a little bit more profile out in the greater Canadian community."
The agreement with the Royal Bank of Canada, which included the naming rights to the convention centre, was announced at a news conference on Wednesday. The deal was the culmination of years of work behind the scenes, according to Da Silva.
"Very strategically we wanted to make sure we had the right partner and had similar values and were able to move forward with a really strong relationship," said Da Silva.
Neither side would disclose the dollar figure attached to the deal. However, RBC CEO Dave McKay stressed the decision to partner with the convention centre was about the bank's strong commitment to community.
"This is a meeting place. It is where business is done. This is where arts and community come together. We thought that was an important place to show our support and our strength and we are really thrilled that this convention centre plays such an active role in the economy and we wanted to be part of it," said McKay.
Last year, RBC contributed more than $100-million in donations and sponsorships worldwide, including $4 million in southwestern Ontario and $1-million in London.
The convention centre hosted more than 300 events last year, resulting in a record economic impact of $21.3 million for the London region.
"Our convention centre has a long history of contributing to our local economy and serving the region as a preeminent place for conventions, meetings and events," said Mayor Ed Holder. "We are proud to link a respected national brand to the exceptional reputation of our convention centre in a way that opens up new opportunities for both organizations, and brings additional profile to London and our strong tourism and hospitality sectors."
Article by Miranda Chant as posted on BlackBurnNews.
Click
here to view the RBC
profile.
Organizations connected to this article
Interest areas in this article