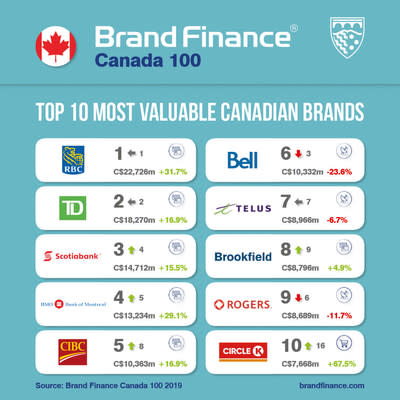 Overtaking Tim Hortons, McCain, and Thomson Reuters, 
Circle K
 is now one of the top 10 most valuable brands of 
Canada
, according to the latest report by leading independent brand valuation consultancy, Brand Finance. Up 67% to a brand value of 
$7.7 billion
, Circle K is also the nation's fifth fastest-growing brand in the 
Brand Finance Canada 100 2019 report
 and was just recently revealed as the fastest-growing retail brand in the world.
"The mono-brand approach bodes well for the growth of Circle K's future brand value and strength, not just in 

Canada

, but around the world." 

Charles Scarlett-Smith

, Marketing Director at Brand Finance Canada
Overall,
 Parkland Fuel
 is 
Canada's
 fastest-growing brand of 2019, up 111%. Outstanding brand value growth is a result of the successful acquisition of Ultramar and Chevron Canada's downstream business. Parkland Fuel is also diversifying its brand portfolio, adding private label brand 59
th
 Street Food Co to its retail operations.


Most Valuable Brands
For the first time, all top 5 spots in the 
Brand Finance Canada 100 2019 ranking
 are occupied by banking brands as the sector benefits from high forecasted revenues and successful international expansion. 
RBC
 defends the title of 
Canada's
most valuable brand, following a strong 26% growth to 
$22.7 billion
. 
TD
 (
$18.3 billion
) ranks 2
nd
, followed by 
Scotiabank
(
$14.7 billion
) taking 3
rd
, and 
BMO
 (
$13.2 billion
) and 
CIBC
 (
$10.4 billion
) in 4
th
 and 5
th
 place respectively.
Canadian telecoms giants 
Bell
 (down -24% to 
$10.3 billion
), 
TELUS
 (down -7% to 
$9.0 billion
), and 
Rogers
 (down -12% to 
$8.7 billion
) all decreased in brand value this year, a result of wider economic pressures, increased price competition, and decreasing margins in an increasingly competitive space.
"Sponsorship is one of the main battlegrounds for telco brand awareness. Telcos are willing to spend tens of millions of dollars in sponsorship endeavours. As margins continue to be squeezed, evaluating the ROI on sponsorship will be essential in the coming years," Scarlett-Smith concluded.


Strongest Brands
Aside from calculating brand value, Brand Finance also determines the relative strength of brands using a balanced scorecard of metrics evaluating marketing investment, stakeholder equity, and business performance. Along with the level of revenues, brand strength is a crucial driver of brand value.
According to these criteria, 
WestJet
 is 
Canada's
 strongest brand. The airline scored well on aspects related to consideration, familiarity, preference, recommendation, and reputation, far outperforming the average in the airline sector.


Crown Royal
 is the second strongest brand in 
Canada
, and the strongest spirits brand in the world. It is one of only two brands in the ranking to achieve a AAA brand rating. Crown Royal has fast become an international brand, beloved globally, not just by Canadians.


Canadian Tire
 is 
Canada's
 strongest retail brand, scoring well in brand investment measures, as reflected in their successful brand promotion and marketing campaigns. CTC's portfolio of brands, including SportChek and Gas+, is valued at 
$5.2 billion
. With the successful acquisition of Helly Hansen, this number is only set to grow.


TELUS
 maintains the title as 
Canada's
 strongest telecoms brand and is the third strongest brand in the ranking. Backed up by high innovation, reputation, and solid CSR scores, the TELUS brand has remained relatively immune to broader environmental and economic changes in the Canadian telecoms market.


McCain
 is 
Canada's
 strongest food brand with an improved rating of AA+. McCain is the global leader in the frozen foods market, which is only set to grow in the years to come.


Intact
 is this year's strongest insurance brand taking the top spot from Sun Life, with a brand rating of AAA-. Achieving high scores across the board, Intact registers particularly strong results in brand preference, recommendation, and reputation.


Provincial Analysis
There are 39 brands from 
Ontario
 in this year's top 100, more than any other province. 
Brookfield
 is new to the top 5 this year, displacing 
Rogers
 which fell to 6
th
 overall in 
Ontario
. 
Constellation Software
 is the fastest-growing brand in 
Ontario
, growing 55% this year. The Waterloo-based software brand continues to outdo analyst expectations and has become a brand to watch.
Following a rocky 2018, 
Tim Hortons
 is 
Ontario's
 strongest brand with a brand rating of AAA-. Although their Canadian consumer base may still be reeling from last year controversies, the fast-food coffee chain continues to grow internationally.


Quebec
 is home to 32 of nation's top 100 brands. On average, 
Quebec
 brands increased in value by 19%, the highest of any province in 
Canada
. For the first time, 
BMO
 is the highest-ranking Quebecois brand, overtaking 
Bell
.


Alberta's
 brands are up 16% in brand value, with the oil and gas sector featuring prominently. 
Parkland Fuel 
is the fastest-growing brand in 
Canada
, up 111%. 
Petro-Canada
 has also seen a substantial increase in brand value up 23% to 
$2.4 billion
, making it the 6
th
 most valuable Albertan brand.
Six companies from 
British Columbia
 are featured in the top 100. Athletic wear disruptor 
Lululemon
 is this year's second fastest-growing brand in 
Canada
. Although less in the limelight, 
First Quantum
 is the fourth fastest-growing brand in 
Canada
 and now the third most valuable brand in BC.


New Entrants
The 2019 edition of the Brand Finance Canada 100 report features twelve new brands: Nutrien, Wsp Global, Emera, New Flyer, A&W, Sealtest, Quebon, Gibson Energy, Seagram's, Colliers, Transcontinental, and Enerplus Corp.
Organizations connected to this article
Interest areas in this article