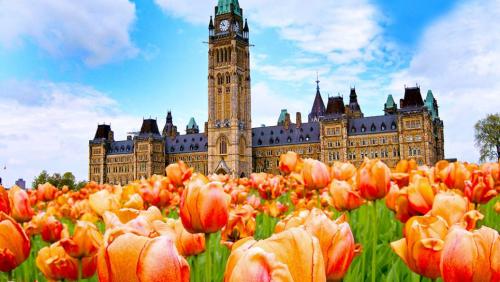 Bloomex is proud to announce that it has again been named the Official Florist of the Canadian Tulip Festival for 2019. The festival takes place May 10- 20 in Ottawa with events and attractions throughout the city. Bloomex will be providing 500 tulips as a sponsor for the Veterans Day ceremony on May 14, along with gift cards and special discounts for Festival attendees. Bloomex will also be adding a free festival pass to every Ottawa Capital Region order during this year's event.
In addition, Bloomex will also be designing and delivering special tulip bouquets to each of Canada's premiers along with the Mayor of Ottawa, the Prime Minister's Office, the Dutch Embassy, and the Governor General's residence to help celebrate the opening of the 66th annual Festival.
Bloomex will also be showcasing a special tulip bouquet on bloomex.ca with to help raise funds for the Royal Canadian Legion. A portion of sale from the sale of each bouquet will go to help programs and support for Veterans through the Legion's many services.
"We are delighted to be the Official Florist of the Canadian Tulip Festival for another wonderful year," says Sue McDonald, Director of Public Relations and Corporate Sponsorship at Bloomex Canada. "The festival is a special tradition in Canada, celebrating an important part of our history and the peace and friendship that tulips represent. We're proud to be part of it again in 2019."
"We are delighted to be working once again with Bloomex as our Offical Floral Supplier,' says Jo Riding, General Manager, Canadian Tulip Festival. "Their generosity towards our honorary veterans and official memorial services, as well as their creative touches in our Festival presentations, are truly priceless."
Organizations connected to this article
Interest areas in this article