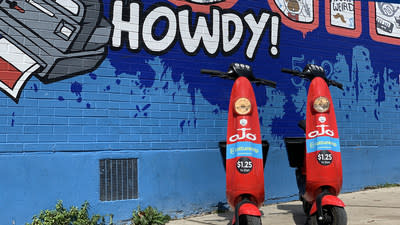 Today, OjO Electric, LLC, (
www.ojoelectric.com
) a Light Electric Vehicle (LEV) mobility solutions company announced its sponsorship of EarthX 2019, 
April 19-28
. The annual event held in 
Dallas, Texas
, brings together environmental organizations, businesses, academic institutions, government agencies and the public to address some of the world's biggest environmental challenges.
"EarthX is thrilled to partner with OjO the first electric sit-down scooter promoting alternate sustainable mobility solutions, OjO is committed to changing rideshare for good, and since they were recently permitted to operate  here in 
Dallas
, the timing and their mission is a perfect match for us," said 
Michael Cain
, President of EarthxFilm.
OjO is an electric scooter rideshare program committed to collaborating with local governments to reduce traffic congestion and carbon emissions. Built for the bike lane and streets, off sidewalks and away from pedestrians, the OjO scooter is a safe, sustainable and structurally sound scooter for today's rapidly expanding rideshare market. OjO has a swappable battery that allows it to go up to 50 miles on a full electric charge. In addition, the OjO scooter's top speed is 20 mph, with the ability to control speeds in particular geo-fenced locations. Unlike other scooters, the OjO includes audible feedback through on-board speakers including alerts for navigation, traffic, speed reduction zones and geo-fence approaches.
OjO is permitted for 100 scooters in 
Dallas
, and is known for the launch of the first ever sit-down electric scooter rideshare program which started in January of this year in partnership with Austin Commuter Scooter, LLC, a subsidiary of Bike Share of 
Austin
. OjO customers enjoy longer rides than typical kick-scooter riders, and increased mileage traveled and drive time reduces cars on the road and carbon emissions.
"We are thrilled to bring OjO to 
Dallas
. The OjO scooter is a far different product than all of the kick-scooters in the market from a safety, quality and comfort standpoint, but the real difference maker for city planners and customers alike is usage and range. While kick-scooters are used for short trips, OjO is providing a true alternative to cars in the micro-mobility space by servicing longer trips," said 
Max Smith
, CEO of OjO Electric. "The data coming out of our launch is proof that OjO is used for significant time and distances 
traveled
."
On the heels of its successful launch in 
Austin
, OjO is gearing up to expand to an additional 10 markets in 2019 and will continue to work with experienced logistic companies and local operators from the B-Cycle System and P3GM, a smart city development company. OjO has permit applications pending in several top 25 markets and has sights set on additional cities with the infrastructure and mobility offerings where OjO's rideshare program makes good sense.
Organizations connected to this article
Interest areas in this article