Colonel Sin: KFC's Ultra DJ Performance Was a Dystopian Nightmare, And a Warning for Brands Everywhere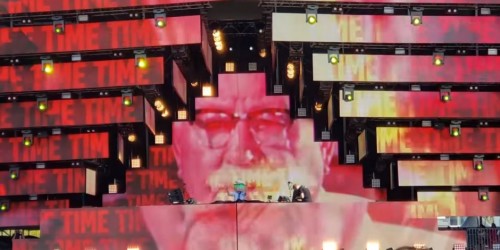 As shameless as marketing can be, the fast food chain -- and the festival -- crossed a line when it brought the mascot onstage for a five-minute set.
"Hello, Kentucky!" an amplified voice reverberates forebodingly from the main stage of Ultra Music Festival's 21st edition. It's an uncomfortable attempt at a joke -- the festival is on the Miami, Florida, island of Virginia Key -- but there's no laughter. KFC's latest brand antic is about to flop.
"I am Colonel Sanders! I am everywhere!" A man adorned in a Party City-grade Colonel Sanders costume with a rip-off of deadmau5's gargantuan, dead-eyed helmet, writhes onstage to a simplistic candy-coated EDM beat. It felt like a Nathan For You prank, a parody, a comical dystopian sequence from Terry Gilliam's Brazil. Like, if it were real life, common sense would protect us from this horrendous branding stunt attack. But it happened. And for uncomfortably longer than the videos uploaded to social media allowed us at home to absorb. We've arrived at a point where brand deluge is occurring consistently, now in public spaces, and we can't opt out. It suggests the comedic prophecies of Mike Judge's 2006 comedy Idiocracy brought to life, or the "AdBuddy" of Netflix's Maniac. Regrettably, there's no ad-blocker for real life -- even when you're paying upwards of $350 for three-day admission, or $1,500 for VIP passes.
Naturally, if one spends even $100 to enjoy themselves at a festival, they might expect some refuge from the outside world: cut-off from political outrage, the dread of social media, the uncertainty of work, life in general. We've learned to stomach -- even expect -- a certain degree of branding in any public space, especially those with some cache of "cool." But who could be thrilled by the engulfment of brand propaganda during a five-minute set that would have been better if they'd announced a long moment of silence? While many lamented that this time could have been better used by actual musicians, by many magnitudes this was worse than total nothingness. At least in silence there are still the rave principals of peace, love, unity and respect (PLUR).
Marshmello
, who headlined Ultra later that night and also dons a bulky, eerily vacant headpiece was notably annoyed, complaining in a since-deleted tweet, "I can think of a lot of other artists that actually deserve to be on that stage instead." Ultra isn't creating spaces for up-and-coming performers or marginalized musicians by placing Colonel Sanders, a white man in a white suit with white hair who built an empire off of Southern and soul food throughout the Jim Crow era, on the lineup (yes, Colonel Sanders was actually listed on Ultra's the official flyer). Sanders as a figurehead doesn't represent what the music industry is and should be striving for: At his worse, he's the antithesis of diversity; at his best, he's a clown. And his presence serves no purpose for fans at Ultra, other than to ostensibly mock EDM in general -- a genre already often ridiculed for its heightened BPM and compressed down to imagery of kids in shutter shades, neon bikinis and binkies. Advertising fried chicken would maybe make a little more sense at the CMT Music Awards, seeing as last summer KFC chose country queen 
Reba McEntire
 to not only collab but actually take the reins as the franchise's first woman Colonel, and there are literally dozens of popular country songs that mention the southern fried staple. But Kandi Kids don't exactly feel like target demographic. Does KFC imagine Ultra is an easy, indulgent crowd to win over?
Marshmello was not the only esteemed DJ with grievances. The also-masked deadmau5, who overtook Ultra Music Festival's Live Arena on Sunday night, made a jab at KFC when the power went out during his set. In videos of the performance, he can be heard shouting, "Colonel fucking Sanders blew the power!" as his audience laughs and jeers over KFC's performance, no doubt in on the joke. Louis The Child also took to Twitter to state, "Given the platform you have as a major electronic festival, it would be nice if you used it to showcase what electronic music is about and not make it seem like a joke with corporate promotional nonsense @ultra," asserting, "There are people out here creating amazing music and pushing the genre forward in incredible ways and this shit just pushes us back even further." KFC likely estimated the audience would regard the corporate stunt as a joke, but by merely occupying the space, videos of the advert went viral, serving only to cement stereotypes of EDM and consequently make a mockery of Ultra's lineup. DJ Colonel Sanders' mask in itself stood as a spoof bordering on derision -- DJs like deadmau5, Marshmello and SBTRKT have built their musical identities around their outlandish masks, not solely to stand out but to generate a fun, flashy performance worth attending. Masks also serve to introduce mystery and anonymity -- wonder who the person behind the mask is all you like, but without a human face to gawk at you're driven to appreciate the music authentically. 
Ultra's KFC debacle feels reminiscent of Austin's South by Southwest's 2014 Doritos stage, a 62-foot-tall concert stage crafted to look identical to a vending machine filled with bags of chips. The Doritos stage was powered by tweets, allowing concert-goers to utilize the hashtag #BoldStage to control when the arena would release SFX like smoke, fire, lasers, beach balls, confetti and balloons. Fans were also able to choose opening acts, playlists, encores, and through their hashtagged selfies even become featurettes on the four-story-tall LCD screen. Sounds cool, right? At a time when the music conference and festival was already receiving increased criticisms for growing too large that it had lost its way, it was shameless marketing at its worst. But 
LL Cool J
 was performing and 
Lady Gaga
 headlining -- and not for free, mind you. The Doritos stage was met with abject criticism over its glaring corporate endeavors, however, and the festival withdrew the stage the following year.
KFC's brazen fried-chicken advertisement masqueraded as EDM, however, feels bleaker. There's nothing in it for the audience. No interactivity, no choice in performers and, worst of all, no free food. At least KFC could have rained free meal coupons down on the audience or, even better, provided concertgoers with free food and beverages. For a festival now being deemed "Fyre Fest 2," this would have been a great opportunity for a fast food brand worth $7.4 billion with 20,500 international fried chicken outlets to provide sustenance in the kind of space that tend to deprive folks of the basics. For all the money KFC undoubtedly spent to buy the slot from Ultra, it forewent any substance for a forced listening party resulting in nothing but existential despair and confusion. What did KFC accomplish other than putting on a self-gratuitous act? Their stocks haven't gone up (I checked), nor have Google searches for KFC spiked (though they're up about 10 total searches). Unlike this years' Golden Globes 
Fiji Water Girl campaign
 -- a consumerist exhibition on another level, which brought in $12 million in ad impressions for Fiji Water -- this feels more stupid than clever with no proof KFC has or will benefit from its overbearing DJ set. 
Watching the full video is painful. The screen behind the the KFC mascot reflects dancing chicken drumsticks to the audience, a 3D kawaii version of Sanders with heart-filled eyes oscillating to the beat. An ominous clip of the late original Colonel, 
Harland David Sanders
, flashes across the screen subliminal message-style during the five-minute set repeating the words "TIME" and "PRESSURE." Perhaps this is a reference to cooking the perfect fried chicken, but it's not landing. It's just creepy as hell. The mascot, and message, flails on stage. And after about a minute, you realize everyone has stopped dancing. The audience is just floating in space-time as though they're enduring an IRL TV commercial, patiently waiting for it to end so they can return to their regularly scheduled programming. At the end of the performance, the crowd is prompted to cheer: "Make some noise for Colonel Sanders!" an amplified voice seeks to convince the masses. But very few react at all until someone else -- anybody else -- takes over the stage and the group realizes it's been unshackled from the big, meaty hands of consumerism and is once again free to enjoy the music it paid to hear.
While Ultra might have learned its lesson not to let Colonel Sanders or any other mascots back on stage, organizers have bigger fish to fry. It's unclear whether it will be welcomed back to Virginia Key next year after the festival ended in slight post-apocalyptic horror Friday night when 50,000 attendees left en masse, only to discover there was no transportation from the island of Virginia Key back to Miami. Their only options were to walk three miles across the causeway or wait hours for shuttles to rescue them. Mind you, all of this happened in the middle of the night, leaving already exhausted concertgoers frustrated and hungry, maybe even for some fried chicken. 
Hopefully Ultra's failures will prompt self-reflection in its own community and the festival enterprise as well, the industry will welcome the feedback from the dozens of notable DJs and their fans and think twice before agreeing to such unwarranted, clownish marketing promotions going forward. Albeit no stranger to brand deals, EDM has never seen a stunt as bawdy and obnoxiously lacking in self-awareness as KFC's Colonel Sander's impromptu DJ set and afterwards at least one thing is clear: PLUR does not include KFC.
Article by Helen Donahue as posted on Billboard.
Organizations connected to this article
Interest areas in this article