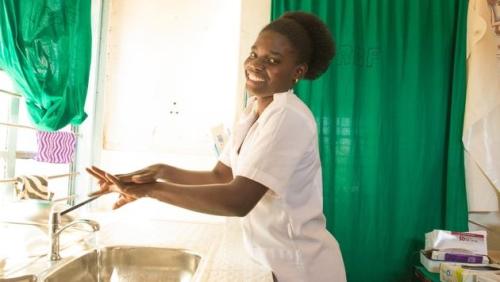 Merit Travel Group is making a difference in the world.
In celebration of World Water Day, Merit Travel Group, one of Canada's largest travel companies, is expanding its partnership with international non-profit organization WaterAid Canada as part of a nation-wide fundraising initiative. A unique
 online fundraiser auction
 spearheaded by Merit Travel opens March 22 and offers an array of exclusive travel prizes that go towards helping WaterAid's Tanzania: Deliver Life Program.
Merit Travel's efforts will serve to improve child health through the provision of water and sanitation services at 12 obstetric and neonatal care clinics across rural Tanzania, Africa.
Through an ongoing commitment, Merit Travel Group raised $86,000 in 2018 alone and more than $200,000 during the course of its partnership with WaterAid Canada to date. The travel company has assisted in the successful ongoing support of WaterAid's initiatives in Tanzania to create new infrastructure, the commissioning of biomedical waste facilities and tools at all 12 clinics, 
and in building the capacity of health care workers.
"Merit Travel Group will always be committed to supporting health and wellness initiatives in the communities that host our Canadian travellers" said Phil Sproul, CEO of Merit Travel Group. "We support WaterAid's work wholeheartedly and are proud the Merit Travel family has come together—including our executives, employees and valued clients—to support the Deliver Life Program and continue the improvement of health care in Tanzania."
Jointly funded by the Canadian Government through Global Affairs Canada, WaterAid's Tanzania: Deliver Life Program is focused on providing basic water access, sanitation infrastructure, and hygiene promotion at 12 health clinics in the Geita and Nyang'hwale districts of Tanzania while significantly reducing the spread of life-threatening infections.
Key Findings of the Tanzania: Deliver Life Program
56% of health care facilities across the country do not have access to water, toilets or soap for hand washing.
Only 44% of health care facilities that deliver babies have access to water, decent toilets and soap.
76% do not have access to water inside delivery rooms, with nurses unable to wash their hands.
Of these, only 24% have water access in delivery rooms.
Merit Travel Group has supported WaterAid Canada through financial donations as well as corporate and travel sponsorship since 2016. Initial support was generated in 2016 for Ethiopia's Clean Water for Schools project, enabling the WaterAid team and local residents to install toilets and provide clean running water in eight schools in Ethopia. Now in its second year of supporting the Deliver Life program in Tanzania, Merit Travel Group is proud to support multiple efforts in sub-Saharan African countries.
"All the progress that we've made in provision of basic water must be matched with as much attention to inclusivity, which is why we need Merit Travel here," said Nicole Hurtubise, CEO of WaterAid Canada. "Tanzania: Deliver Life program is about changing the birth stories of thousands of mothers and babies in Tanzania and to give families a better start in life".
These and many more issues of water scarcity are of paramount importance to WaterAid and Merit Travel's initiative, aiming to address some of the very serious water, sanitation and hygiene needs in health care facilities across Tanzania.
Article by Jim Byers as posted on Travel Pulse.
Organizations connected to this article
Interest areas in this article