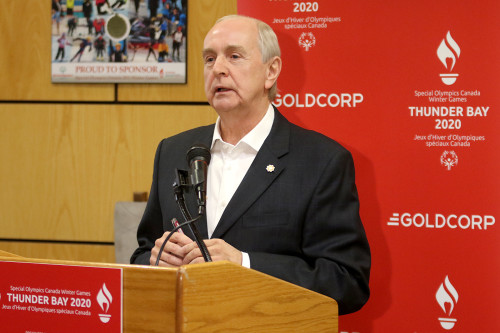 The countdown for the 2020 Special Olympics Canada Winter Games is on.

On Wednesday, organizers of the event announced they'd secured the Games' presenting sponsor, bringing Goldcorp on board in a big way.

Also shared at a city hall news conference was the event's slogan, Pure Heart, which will serve as both the inspiration and theme for the Games, slated to open on Feb. 25, 2020.

"I'll tell you, it was a significant contribution," said organizing committee chair Barry Streib.

"They were so keen on assisting and helping and supporting because they understood what these Games here in Thunder Bay would mean to all of the Special Olympic athletes. Their whole focus was to ensure we have a successful Games, so we can continue those programs with some of the legacy (left behind)."

Streib said Goldcorp's sponsorship should also serve as a catalyst to convince other businesses to jump on board when sponsorship opportunities arise.

"Hopefully their significant support will influence others to come on board and be a part of this amazing event that we're hosting here in Thunder Bay," he said.

Goldcorp Musselwhite Mine general manager Peter Gula said it was an easy decision to make when asked, and said it's all about making the city a better place for everyone to live.

"This is a fantastic event. Any time we can get involved in the community, we're all about providing the opportunity," Gula said. "These are great events. I've attended a few in the past and to see the smiles on their faces and the level of compete, I just felt it was important to get involved and make sure we can make it happen."

Wednesday's event also saw Louisa Costanzo's appointment as the Games manager made public. Costanzo has plenty of experience putting on big events, including the Canadian Screen Awards and Just for Laugh's Toronto comedy festival.

Streib also used the opportunity to call for volunteers to sign up for the Games, noting they'll need between 600 and 700 to put on the five-day event.

More than 1,200 athletes, coaches and mission staff are expected to be in Thunder Bay for the Games, which will include eight official sports – alpine skiing, five-pin bowling, cross-country skiing, curling, figure skating, floor hockey, speed skating and snowshoeing.

The Games serve as a qualifier for athletes to become members of Team Canada at the Special Olympics World Winter Games.

Article by Leith Dunick as posted on tbnewswatch.
Organizations connected to this article
Interest areas in this article