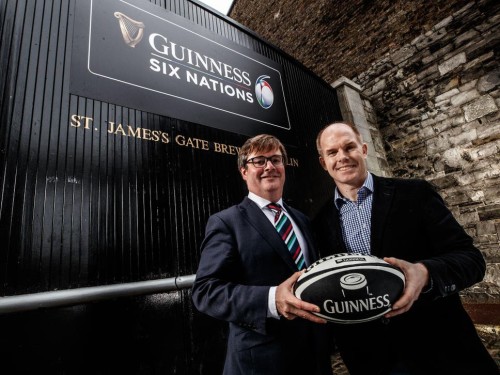 Guinness replaces NatWest after a short-term agreement, but it comes at a considerably lower fee than what RBS offered two years ago.
The 
Six Nations
 has announced that 
Guinness
 will sponsor next year's championship in the first of a six-year deal, having secured a cut-price deal that is initially worth around £8m less per year than the previous deal.
After seeing long-term backers 
RBS
 withdraw their support following the conclusion of the 2017 tournament, the Six Nations board embarked on trying to sound out a new title sponsor for the northern hemisphere's premier competition.
But the recent drop in advertising revenues and financial uncertainty during the Brexit negotiations saw the championship struggle to agree a deal, having rejected an extension offer from RBS understood to be worth around £14m-a-year – a reduction of the £100m six-year-deal that was signed at the start of the decade but still a significant improvement on the Guinness deal.
Having decided that the RBS offer undervalued the competition, the Six Nations were forced to pursue a short-term option for the 2018 edition with NatWest that stood at around £9m. But a decision has finally been taken in forming a long-term partnership with Guinness, who are understood to be paying £6m for next year's tournament and increasing each year to around double that figure in the final year of their deal in 2024, according to 
The Times
.
Six Nations chief executive Benjamin Morel said: "We are absolutely delighted to enhance our long-standing relationship with Guinness and they will be a terrific title sponsor for rugby's greatest championship. Guinness are world leaders and our partnership between two great iconic brands will enable us to reach new audiences on a global scale.
"We could not be more excited to be working with the Guinness team over the coming years on developing new and innovative ways to connect with our fans and consumers."
The announcement furthers Guinness' relationship with rugby, given that the beer brewers are already the title sponsors of the Pro14 that features across Ireland, Scotland, Wales, Italy and South Africa.
Mark Sandys, global head of beer, Baileys and Smirnoff at Guinness' parent company Diageo said: "This announcement affirms our long-standing support for the game of rugby and cements our position as one of the world's biggest rugby supporters. We truly believe in the power of sport to connect communities and we'll be working with the Six Nations to ensure that fans' experience of the Guinness Six Nations is their best yet."
Next year's tournament, which will be one of the more important editions as it comes in a Rugby World Cup year, kicks off in Paris on Friday 1 February as France host Wales to raise the curtain before Scotland take on Italy and Ireland host England in Dublin in an early repeat of the last two Grand Slam deciders.
Article by Jack de Menezes as posted on the Independent.