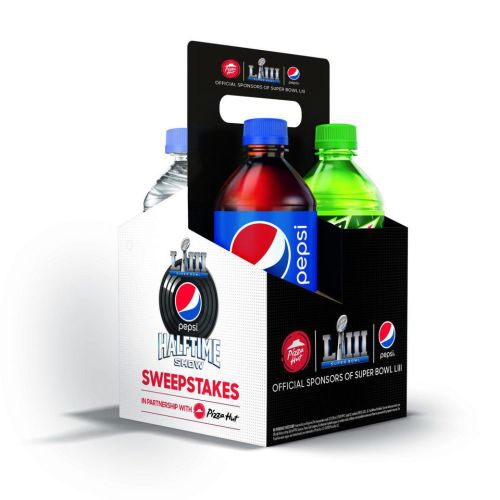 It's not often two major brands partner for a promotion, but Pizza Hut and Pepsi are leveraging their mutual designation as an Official Sponsor of the NFL to give fans a chance to win a trip to Super Bowl LIII, which includes an on-field experience during the halftime show. The partnership was made possible, in part, by their shared history that goes far beyond football.
"Pepsi has been a core partner of Pizza Hut since we first opened our doors in 1958," said Marianne Radley, Chief Brand Officer for Pizza Hut. "And now that we both are official sponsors of the NFL it was a natural fit for us to team up and deliver fans the ultimate NFL experience."
Pizza Hut is in its first year as the Official Pizza Sponsor of the NFL, but Pepsi has been the Official Soft Drink Sponsor since 2002 and the Super Bowl Halftime Show sponsor since 2013.
"Since we became the Official Sponsor of the NFL, we have focused on the fans and how we can enhance their football experience," said Radley.
"We have been in conversations with Pepsi, who is so well known as an NFL sponsor and involved in the Super Bowl experience, since the beginning of the 2018 season, it has been really fun collaborating on what we could do together to celebrate fans."
The partnership was easy because of the 60-year relationship between the brands, which created a built-in trust factor Pizza Hut might not have had with other brands.
Pizza Hut and Pepsi previously partnered on the "Say it with Pepsi" campaign in 2016. During that campaign, customers were given a free, one-topping Personal Pan Pizza for carryout when they brought in a Pepsi bottle featuring a slice of pizza or full pizza emoji to a participating Pizza Hut restaurant.
Even with their history, Radley says the brands have to work to ensure both are getting something out of the partnership.
"Communication is key and many discussions are often had before a partnership of this magnitude can come to life in a way that works for both parties.
"The good news is that we have a long and successful history or partnering with Pepsi, so we were aligned from the start."
The sweepstakes kicks off today. Fans can enter the Pepsi Super Bowl LIII Halftime Show Sweepstakes by purchasing limited-edition Pepsi 4-Pack carriers, available at all Pizza Hut locations while supplies last, and entering a code from the product on the 
sweepstakes website
.
Fans can also share their homegate on Twitter using the hashtag #HutxPepsiSweepstakes for a chance to win.
Two fans will win tickets for themselves and a guest to attend Super Bowl LIII and view the Pepsi Super Bowl LIII Halftime Show from the field. There will also be additional prizes, such as NFL gear, awarded to fans who enter the contest before Dec. 31.
Earlier this season, Pizza Hut kicked off its NFL sponsorship with a 
trio of activations
, including new national television commercials, special-edition pizza boxes with Augmented Reality integration and its "Game Plan" digital platform.
Article by Kristi A. Dosh as posted on Forbes.com