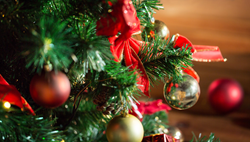 Kelowna moving company 
Bekins Moving and Storage
 has come on board as a sponsor for the recently revived Homes for the Holidays event that benefits hospice care in the Central Okanagan.
On hiatus for the past three years, 
Homes for the Holidays
 returns Nov. 17 and is a fundraiser for the Central Okanagan Hospice Association (COHA). The self-guided tour is expected to see approximately 700 participants visit seven private homes around Kelowna. Each home will not only be unique in architectural design, but will be decorated with a holiday theme by the host/homeowner and a team of decorators.
The event includes artists, tastings, demos and what's hot in holiday décor, with all funds going towards compassionate care, comfort, support and learning to those at the end of their lives or who are grieving in the community, reports the COHA.
Bekins is not only sponsoring the event, but it's also providing valuable moving services.
Bekins' professional Kelowna movers will deliver undecorated Christmas trees to the seven homes before the Nov. 17 event and after will pick them up, wrapped and decorated, and deliver them to a special VIP afterparty (date and place to be announced), where they will be auctioned off to support COHA.
"We will then deliver the trees to the winning bidders," says Bekins Kelowna General Manager Nathan Miller.
While this is the first time Bekins has come in as a sponsor, Miller has a history with the event when he worked for another moving company in Kelowna.
"Before it was revived, Homes for the Holidays had been in operation for 13 years, and for 10 of those years, I was in charge of picking up the trees and delivering them," explains Miller.
Back then, Miller delivered fully decorated trees to the homes.
"We would wrap them in plastic and keep them upright and gently place them on the truck. We would have to lay down protection in the homes in order to deliver the trees before we would unwrap them. Then we'd return to the host's house, rewrap them, and take them to the auction event and then take them to auction winner's house," recalls Miller, who adds he is happy to be involved with the event once again.
Besides being a sponsor for Homes for the Holidays, Bekins Kelowna also recently announced it has become the official movers of the Kelowna Rockets WHL hockey team.
"We are locally owned and operated, and are the only Bekins franchise in the Okanagan. We opened just three years ago and have built our brand from the ground up. For me personally, I am at the point where I want us to be more community involved as a company and that's why we want to put more emphasis and energy into events and sponsorship. It's something I've always wanted us to do and we're now in a position where we can get involved. It's good for us and the community," says Miller.
Tickets for the Homes for the Holidays self-guided tour Nov. 17 as well as the VIP auction can be purchased online through kelownatickets.com.
Organizations connected to this article
Interest areas in this article