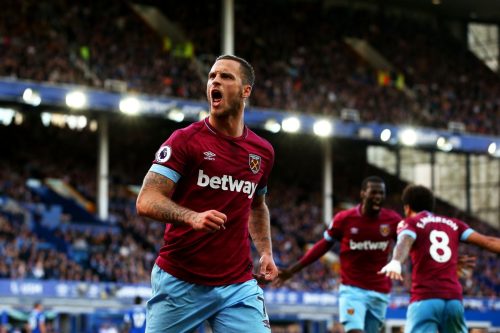 Look at photos or videos of the great footballers from the early-to-mid twentieth century – George Best at Manchester United, for example – and one thing immediately strikes you: the plainness of the kits. You have the club's colours, their crest, the player's number… and that's it.
Fast-forward to 2018 and the first thing you notice on a football kit is the advertising. It's everywhere. There's the massive advert on the front, which dominates the club crest in terms of size. There's the manufacturer's logo. As of the 2017/18 season, there are shirt sleeve sponsors now too.
This level of advertising hasn't simply appeared, however. Over recent decades, the size of the sponsorship deals clubs have negotiated has increased hugely, vastly outstripping the rate of inflation. Premier League clubs will now seek long-term contracts which secure them – in the case of 
the biggest sponsorship deals
 – massive sums. In turn, the number of companies who are 
able 
to sponsor a football club has been whittled down enormously.
To understand the scale of the 
changes undergone by Premier League clubs
 in this regard, we must go back to the very beginning.
The first British club to become sponsored wasn't Manchester United, Liverpool or Arsenal. It was lowly Kettering Town, who signed a sponsorship deal with a local tyre company back in 1976. The shirt sponsor was banned almost immediately by the FA. It wasn't until the next season, in 1977, when the first sponsorships – for Bolton and Derby – were actually permitted
By the dawn of the Premier League era in 1992, almost every major club had a sponsorship deal in place (Wimbledon were the sole exception in the top flight). Many of the companies involved were still local businesses, however. Norwich City, who finished third that season, were sponsored by the Norwich and Peterborough Building Society. Southampton had a deal with a family-run business in the area, Draper Tools. For the record, those teams today are sponsored by LeoVegas and Virgin respectively.
Even then, of course, some sponsors were bigger than others. Arsenal were memorably sponsored by Japanese consumer electronics giant JVC. Manchester United had a deal with rival company Sharp. Still, there remained a solid mix between British-based and international sponsors.
In the modern day, that mix is long gone. There isn't a single local sponsor left in the Premier League. In fact, there are only three sponsors who are even headquartered in the UK: Standard Chartered, Virgin Media and FXPro.
The changing nature of Premier League shirt sponsors has directly followed the rise of globalisation, particularly favouring the rapidly-developing Chinese and Middle Eastern economies. Much of the sponsorship money now comes from thriving East Asian companies, with several clubs – such as Crystal Palace and Huddersfield – even having Chinese characters on their shirts, to appeal to a television audience half the world away. Two of the 
biggest sponsorship deals
 – Etihad Airways and Fly Emirates, signed with Man City and Arsenal respectively – come courtesy of the oil-rich UAE. The biggest deal of all – Manchester United's with Chevrolet – almost feels quaint in its lack of exoticism, and its advertising of a car manufacturer whose parent company, General Motors, went bankrupt in 2009.
There has also been a huge change in the nature of the businesses who advertise on Premier League kits. In the inaugural
1992/93 season's kits
, a wide variety of sectors were represented: technology, alcohol, insurance, car manufacturers, local companies … even Classic FM. No single sector or industry was dominant.
Nothing could be further from the truth today. Betting has become inextricably linked to Premier League football, not just through the bookies' omnipresent football-focused TV adverts, but through their shirt sponsorships too. Of the 20 Premier League teams, nine of them are sponsored by betting companies. If we dip down a little to the Championship, this increases to a whopping 17 out of the 24 clubs. Overall, that means, in England's top two divisions, nearly 60 percent of the clubs bare bookies' logos on their shirts. The 
relationship between gambling and football
could hardly be stronger.
Interestingly, however, it's the not the big-name high street bookies who have claimed dominion of this coveted space; your William Hills, bet365s, and so on. In fact, the only one vaguely close to being based in the UK is Betway, sponsors of West Ham United, who have offices in Guernsey. It's primarily foreign companies, with the Chinese bookmakers – W88, ManBetX and Ope Sports – clearly dominant. Whilst they may be looking to grow their customer base in the UK, their primary reason for these deals is surely to be prominent amongst Premier League fans back in China. Again, we see globalisation in action via Premier League sponsorships.
Football has a 
massive attraction for betting companies
. Shirt sponsorship has become one of the main ways in which bookmakers seek to grow their brand, and they're willing to take enormous risks to do so. Let's take Betway as an example. They were only founded in 2006, and certainly don't belong amongst the bookmaking powerhouses like Ladbrokes and Coral. Despite this, they were still willing to commit to a deal worth over £10m with West Ham; the largest outside the big six Premier League clubs. That represents an 
enormous
 gamble (no pun intended), but it was clearly one they were willing to take, for a chance to make the 
Betway betting firm one of the more visible bookies.
Times change quickly in football. Less than 50 years ago, football shirts were completely bare. Now, every Premier League club has a multi-year, multi-million-pound sponsorship deal, all for a couple of patches on their shirts. The nature of those sponsorships has changed too over the years, but two things look certain: these deals are only going to grow in size, and – thanks in part to the sponsorship – betting will continue to be inextricably linked with football.
Article as posted on These Football Times