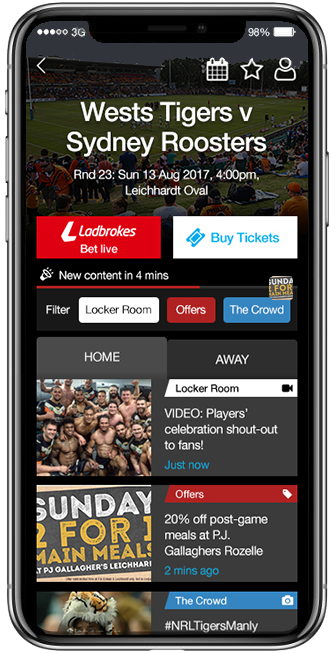 What is the most valuable sponsor real estate in sports and events?
If you said attendees' mobile phones, you may want to listen out for The Siren - a
n Australian start-up that delivers behind-the-scenes content, sponsor inventory and digital activations to attendees' cellphones at the event. And they're giving away their services.
The cloud-based platform delivers content via an app, with white-label and API options available. All content is geofenced, so only those at the event see the content. 
Founder Jason Davis developed the system after running content teams at some of Australia's largest sporting events.
"I would often be behind the scenes or in the locker room, thinking that the fans at the event would kill to see this. Meanwhile the event-holders are looking to improve the experience and create new sponsor inventory. It seemed like all the pieces were there - we just needed a delivery mechanism. Putting everything out on social media isn't going to get bums on seats, and sponsor content is less targeted, and less valuable."
But when the content and messaging is delivered to a known location at a known time (the event), new sponsorship and operational opportunities are unlocked, Davis says. "When we can deliver offers to fans at specific times, at the end of the show or after a score, we get much higher conversions. It also means we can attract sponsorship from local businesses and related services like bars, restaurants, accomodation or transport. 
The Siren can be used for any kind of event: sporting, music, conventions and museums, indoor or outdoor, etc. Deals can even be saved to fans' phones to be used later.
The platform normally costs $A29 a month to use with commercial revenue split 50/50 with the event-holder, but The Siren is offering free use at a trial event to build more case studies.
"It's a global platform, and it's working well in Australia, but there's no reason it can't work anywhere in the world. We'd like to prove that with some case studies, so we're waiving the fee. We wanted to make it a no-risk proposition.
For those wanting to know more, all the relevant info is on
The Siren
site, where the platform's
features
and activation options are also detailed. Contact jason@thesiren.com.au for more details or call +
61 431 
632 
6
60
<br />p.p1 {margin: 0.0px 0.0px 0.0px 0.0px; font: 12.0px 'Helvetica Neue'; color: #454545} <br />
<br />p.p1 {margin: 0.0px 0.0px 0.0px 0.0px; font: 12.0px 'Helvetica Neue'; color: #454545} <br />
<br />p.p1 {margin: 0.0px 0.0px 0.0px 0.0px; font: 12.0px 'Helvetica Neue'; color: #454545} <br />
<br />p.p1 {margin: 0.0px 0.0px 0.0px 0.0px; font: 12.0px 'Helvetica Neue'; color: #454545} <br />