Community Care preps for back to school Snacks and Sneakers program sponsored by the Canadian Tire Financial Services and Jumpstart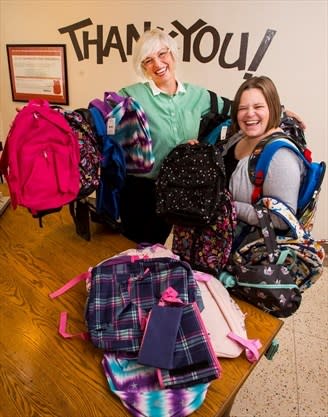 Community Care St. Catharines & Thorold is gearing up to provide children with back-to-school supplies.
The Snacks and Sneakers program is again being sponsored by the Canadian Tire Financial Services and Jumpstart.
The program provides a pair of shoes, a backpack, school supplies, and snacks for a week to kids from kindergarten up to Grade 12, said Chrissy Sadowski, Community Care's fund development officer.
"CTFS supports Snacks and Sneakers because we are committed to supporting the communities in which we live and work," said Holly Unruh, CTFSd' communications adviser in an email. "Jumpstart was a natural integration as a national charity with a commitment to local communities."
On Aug. 22, Community Care is set up like a shop, with people lining up as early as 5 a.m. or sleeping in the parking lot overnight to get in line, she said.
Those hoping to be eligible must register in advance, but Sadowski said most people who come are already clients of Community Care.
Last year, 1,300 kids came through for back-to-school equipment.
"Each year it increases," Sadowski said.
Unruh said CTFS will continue to support the program.
"Over the years, Snacks n' Sneakers has helped thousands of children in need from kindergarten to Grade 12 participate in gym class and sports," she said. "Snacks n' Sneakers has had an incredibly positive impact since its inception and continues to be well received."
In addition to the sponsorship, Sadowski has taken it upon herself to collect 523 backpacks for children under the age of nine.
Most of the donated backpacks are for children over the age of nine, but Sadowski said she's hoping to collect some simple, bright coloured or character backpacks for younger children.
Sadowski posted her request to Facebook and Twitter and said she's received a good response so far. She's willing to pick up the backpacks or have them dropped off at her house. People can also donate money and she will go shopping for the equipment.
"I'm trying to make it as easy as possible," Sadowski said.
Last year, she aimed for 500 but was a few short, which is why she decided to add an extra 23 this year.
Those hoping to donate a backpack can email Sadowski at 
Chrissy@communitycarestca.ca
 or donate online at 
http://www.communitycarestca.ca/donation
.
Article by Rachel Emmanuel as posted on The St. Catharines Standard.