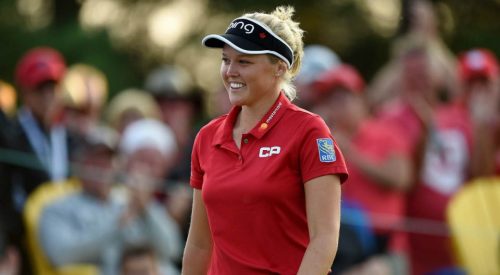 There was never a doubt in Keith Creel's mind regarding the merits of Canadian Pacific Railway continuing to sponsor the Women's Open golf tournament.

Creel, CP's president and chief executive officer, announced Monday the company extended its sponsorship of the LPGA Tour event another five years. Specific details weren't disclosed but CP has sponsored the tournament since November 2013.

"We just think the return is there," Creel said. "It's giving an event to a community that's creating an emotional connection with our customers, with our families at the same time with Canadians across the board.

"I just don't know of another venue that offers all those things. It's nice that I like it myself but I'm not alone in that. It's a great sport, great athletes, great markets, great venues, great opportunities."

The new agreement begins next year and goes through 2023. It will also maintain the US$2.25 million purse with a commitment to be among the LPGA Tour's top-tier events over the term of the deal.

Creel made the announcement at Magna Golf Club, which will host the 2019 event. The 7,307-yard, par-72 course will become the first GTA facility to hold the tournament since Angus Glen Golf Club in Markham, Ont., hosted in 2001.

This year's tournament will be held Aug. 20-26 at Wascana Country Club in Regina with 95 of the Tour's top-100 players scheduled to participate. The naming of Magna Golf Club as the 2019 host kicks off an east-west venue rotation of the event over the new five-year term

"We just want to continue to connect with communities," Creel said. "If we stay here east, eventually you could probably saturate the community and you're going to miss an opportunity in different parts of the network.

"Like a network, we serve communities across Canada and we want to make sure we're using this opportunity to share this as the same time."

Canadian Pacific will also continue as title sponsor of the CP Women's Leadership Summit with the inaugural event scheduled for Aug. 21 in Regina. Olympic hockey standout Hayley Wickenheiser is scheduled to serve as keynote speaker.

"It's going to be an opportunity for the ladies in the golf world as well as the ladies in the business world to come together," Creel said.

Laurence Applebaum, Golf Canada's CEO, was very pleased about CP's sponsorship extension.

"It's an incredible day for us," he said. "CP has taken this event and put it at the premier level of all events on this great global tour.

"They've made an impact in the communities we go into in the most meaningful way."

Applebaum said the CP Women's Open provides between $15 and $18 million in annual economic impact.

"When Laurence and I first connected and talked about the notion of Magna Gold Club hosting the 2019 championship, obviously I was intrigued," said Stuart Brindle, Magna Golf Club's general manager and director of golf. "But it wasn't until we sat down and Laurence shared the tremendous impact that this event brings and all the great things surrounding it … that's when our team got together and said that this is something we want to be part of.

"We could not be more thrilled to welcome the LPGA Tour and host the championship at this club. Looking forward to August."

LPGA Tour commissioner Mike Whan couldn't attend Monday's announcement but applauded CP's extension.

"For our players, this championship is a must-play event with great hospitality as well as great history," he said in a statement. "The LPGA's success is made possible through partnerships like the ones we enjoy with CP and Golf Canada.

"I'd like to congratulate both CP and Golf Canada on this five-year sponsorship extension. With CP's help, we're proud to continue showcasing the LPGA Tour to millions of golf fans in Canada, across North America and around the world."

LPGA Tour star Brooke Henderson, of Smiths Falls, Ont., and Canadian Golf Hall of Famer Lorie Kane both serve as CP golf ambassadors. Creel said if Henderson won the Women's Open, she'd provide a tremendous boost for women's golf in Canada.

"I don't know if you could create a better Cinderella story (than) a Canadian to win this tournament that we sponsor in a community we serve," he said. "I don't know if I could write it any better."

Article as posted on Sportsnet.