The Spectacle of Spectacles: Hendrick's Gin Globally Launches E.L.E.V.A.T.U.M. with a Historic, Multi-Sensory Experience at the Festival International de Jazz de Montreal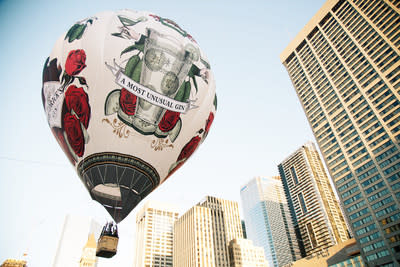 Hendrick's Gin disrupts with global firsts unveiling both E.L.E.V.A.T.U.M. and C.O.R.G.A.N at the 
Festival International de Jazz de 

Montreal

 creating an
 unforgettable display of gin and jazz.
Hendrick's Gin proudly opens the doors to their wonderfully unusual world of whimsy at the 2018 Festival International de Jazz de Montréal today and tomorrow, taking historical strides with the E.L.E.V.A.T.U.M. experience.
Taking place at the famous Quartier des Spectacles in downtown 

Montreal

 (because where else would the spectacle of spectacles take place?), Hendrick's Gin E.L.E.V.A.T.U.M. is a once-in-a-lifetime, fully integrated multi-sensory experience introducing the world to a peculiar experience like no other.

"Hendrick's Gin is about cultivating the unusual," comments Beth-Anne Perry, Senior National Brand Manager, Hendrick's Gin.  "As purveyors of the peculiar, we aim to surprise, delight and disrupt festival guests with a once-in-a-lifetime, multi-sensory spectacle that shares the whimsical world of Hendrick's with jazz fans from across the globe."



THE SPECTACLE FOR YOUR SENSES: 

June 28

 & 29, 

6:00 P.M. to midnight



For Thy Eyes

The Hendrick's Gin E.L.E.V.A.T.U.M. 

(Elevating, Levitating, Exceptionally, Voluminous, Amazingly, Towering, Uplifting, Mobile) 

will whisk those lucky enough to have acquired the coveted gift of gold in the form of a golden ticket to an unconventional journey 44 ¼ cucumbers into the sky to observe the 

Montreal

 festival from a view usually only reserved for our favourite feathered friends.



For Thy Ears

Hendrick's Gin is delighted to globally (and unusually) unveil the first ever Jazz 

C.O.R.G.A.N.

 (or 

Cucumber Organ of Remarkably Glorious Auditory Nirvana

), a one-of-a-kind musical instrument which consists of real, whole cucumber keys that create a distinctive jazz tone when touched, giving festival visitors an auditory and oddly unusual experience unlike any other.  The Hendrick's Gin Jazz Cucumber Organ is set to be displayed at the festival for an exclusive ten-day appearance appearing in the Hendrick's Gin Air Departure Lounge on the 28

th

 and the 29

th

 of June and the festival media and talent lounge for the duration of the festival.



For Thy Lips:

Alongside the spectacles of the E.L.E.V.A.T.U.M. and the C.O.R.G.A.N., Hendrick's Gin is giving golden ticket guests an exclusive first taste of the new Hendrick's Orbium!  A rare and one-time only expression of Hendrick's Gin, reimagined in a parallel universe as Orbium, this new gin is infused with three additional extracts of quinine, wormwood, and blue lotus blossom complementing the classic cucumber and rose essences.  Handcrafted in a preciously small batch, the tasting at the Festival International de Jazz de 

Montreal

 marks the first consumer tasting outside of the U.K. 

Non-bearers of golden tickets need not fret! Their lips will too be tantalized with the glorious gift of Hendrick's Gin with complimentary tea cup G & Ts for Festival guests, available at the Hendrick's Air Departure Lounge on behalf of the first-ever gin sponsor of the Festival, alongside Madame E.L.E.V.A.T.U.M. and her 11 botanical friends.



For Thy Nose:

For those that need ask, of course the nose shall be tantalized.  Guests can take a moment to stop and smell the sweet scent of roses accented by the world's most glorious cucumbers throughout the Hendrick's Air Departure Lounge.



For Thy Spirit:

Of course, the purveyors of the peculiar would not forget the sense of spirit that lies within!  Renowned Intuitive Specialist 

Terri-Lynn Decker

 comes from a land to the East giving golden ticket holders special energy readings, adding to the whimsical wonderment of the Hendrick's Gin E.L.E.V.A.T.U.M. experience.

For the first time in over 39 years of Jazz Festival History, Hendrick's Gin welcomes guests into the unusually captivating world of Hendrick's Gin that connects music with spectacle and gin with jazz, revealing a number of curiously wonderous, whimsical and HISTORICAL firsts that will undoubtedly be encapsulated within the spectacle of the evenings.

All jazz festival attendees 18+ and over are welcome to sample and engage in the magic of the Hendrick's Gin E.L.E.V.A.T.U.M. and view golden ticket holders soaring the skies.  A series of golden tickets will also be available to win on location for festival guests, in an onsite balloting contest both nights.

"A Hendrick's Gin soiree is always a spectacle of the unusual," adds Alvin Ramchurn, National Brand Ambassador, Hendrick's Gin. "We pride ourselves on being purveyors of the peculiar and E.L.E.V.A.T.U.M. will be no exception!"