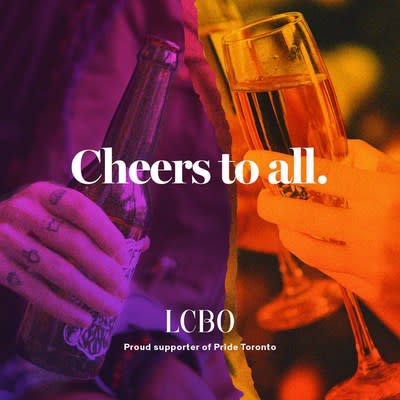 As Pride month kicks off, the LCBO is thrilled to announce its first official partnership with 
Pride 

Toronto
 2018, celebrating the LGBTQ2S community and the organization's commitment to diversity and inclusion. Running through 
June 24
 at select stores in the Toronto Pride area, the "Cheers to all" campaign includes in-store creative that mirrors Toronto Pride's official design, fundraising for 
Casey House
, and sensitivity awareness sessions for staff.
"As the largest celebration in 
North America
, we are extremely proud to partner with Pride Toronto to promote unity, individuality and compassion through this month-long campaign," said George Soleas, CEO & President, LCBO. "This marks an important step in our year-round commitment to building an inclusive, equitable and respectful work environment and strengthening our presence in vibrant communities in which we operate across the province."
"We are proud to be partners with the LCBO who are demonstrating their leadership in committing to LGBTQ2S equality year round," said 
Olivia Nuamah
, Executive Director, Pride Toronto. "Social responsibility means committing to the fight for equity and inclusion as well as celebrating Pride."
Paramount to the LCBO's commitment to responsible retailing and keeping alcohol out of the hands of minors is the company's 
Check 25 program
, in which all staff check government-issued identification for customers that appear to be 25 years of age or younger. In an effort to ensure that LCBO stores are a place where all customers see themselves reflected, photos used in the Check 25 creative will be updated to include members of the trans community. Supported by 
The 519
, a 
City of Toronto
 agency committed to the health, happiness and full participation of the LGBTQ community, staff of participating LCBO locations will take part in sensitivity awareness sessions to ensure the customer experience is respectful and inclusive.
"The Education and Training department at The 519 has delivered inclusion training to over 10,000 people and 300+ organizations last year," said 
Laura Gibbon
, Manager Education and Training, The 519. "We are excited to partner with the LCBO and are looking forward to working together to promote gender and sexual diversity in the retail and service industry."
Rounding out the campaign is the opportunity for customers to make a donation alongside their purchase towards Pride Toronto's charity of choice, 
Casey's House
.
The "Cheers to all" campaign was designed and executed by LCBO's in-house Corporate Social Responsibility, Marketing, Merchandising and Retail teams alongside Bensimon Byrne.