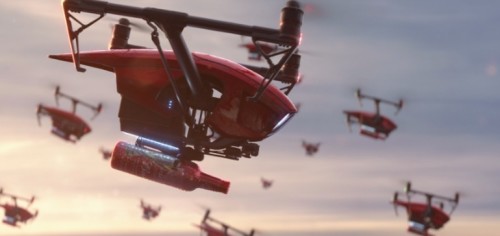 Dive Brief:
Anheuser-Busch InBev's Budweiser unveiled its campaign as the official beer sponsor of the 2018 World Cup that includes integrated experiential elements and 15-, 30- and 90-second ads depicting large-scale beer delivery via drone, a news release announced. The campaign, which AB InBev CMO Miguel Patricio called the largest in company history, will run in more than 50 countries on TV and digital channels.
Creative for "Light up the Fifa World Cup" shows thousands of virtual drones carrying bottles of Budweiser from the brand's St. Louis brewery to a stadium full of soccer fans in Moscow — where the World Cup is hosted this year — with stops in England, China and Nigeria. The 90-second spot follows an "underdog drone" called Bud 1876 that overcomes several obstacles before arriving in Moscow to deliver a Budweiser to the lone beer-less fan in the stadium. The ads end with fans cheering, which activate special Red Light Cups in the stadium.  
Budweiser plans to distribute more than 8 million Red Light Cups throughout the tournament, which come in more than 70 variants. At official World Cup stadiums, every beer purchased will be served in a Red Light Cup, and the cups will be featured at each of Budweiser's global viewing parties. Red Light Cups are also available with purchases with special packs of Budweiser. 
Dive Insight:
With the campaign, AB InBev's Budweiser is tapping into a growing 
consumer interest in drone technology
 while also raising awareness about its limited-edition Red Light Cups. To promote a new co-branded flavor with Taco Bell, Conagra's Bigs Sunflower Seeds took a similar creative approach with a spot featuring drones 
dropping off packs of the snack to baseball stadiums
.
While neither of these efforts appear to deploy real delivery drones at the scale depicted in the ads, they underscore how marketers are excited about the omnichannel possibilities with the technology. Budweiser even weaves a narrative into its spot with Bud 1876, a wonky drone whose name references the brand's founding year.   
The World Cup is one of the most popular sporting events worldwide, and Budweiser has been its official beer sponsor for more than 25 years. Having a recognizable, eye-grabbing item like the light-up cups at the tournament this year is one way the brewer can keep its brand top of mind with both broadcast viewers and fans in stadiums. That could provide a much-need boost to business, as Budweiser recently fell out of the top three selling beers in the U.S., according to 
data from Beer Marketer's Insights
. 
Budweiser focusing its campaign on a global scale also makes sense since the U.S national team did not qualify for this year's tournament. Fox Sports, which is broadcasting the games in the U.S. through 2022, is expected to take a big hit to ratings and advertising figures due to the absence. 
Article by Erica Sweeney as posted on Marketing Dive