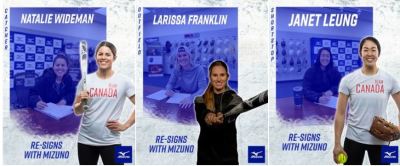 Mizuno Canada LTD.
 is thrilled to announce the re-signing of 3 of Canada's best softball players. The world watched as these ladies took on the world stage in Tokyo this past summer and came home with a bronze medal.  Their journey with the Mizuno brand started well before then, and all parties are very excited to see how these partnerships will continue to develop and grow over the next couple of years.
Natalie Wideman, Janet Leung and Larissa Franklin will all be back with Mizuno Canada for multiple years as they continue their own softball careers as well as embarking on the roll of giving back to the next generation of Canada's softball players.  They have started a group with some teammates called 5 for 5 softball with the main focus of reaching as many aspiring young athletes to inspire and teach them all facets of sports and life.  On top of this endeavor, we plan to implement Mizuno clinics across the country where the girls of all skill levels will be able to interact and learn from these amazing women.
Natalie Wideman is from Mississauga, ON and plays multiple positions on the current national team.  Her primary spot is behind the plate as an elite defensive catcher, but you can also find her playing each corner position and filling in at second base.  Her versatility has proven valuable at the international stage with her coaches being able to pencil her in anywhere on the diamond and feel confident they won't miss a beat.  Natalie always brings her "A-Game" to clinics and players walk away from a catching clinic with her with a greater understanding of the position every time. Natalie has been with Mizuno for over 5 years now and is great at giving feedback on how to make our products better each season!
Larissa Franklin is originally from Maple Ridge, BC and was seen roaming the outfield in Tokyo during this summer.  With a lightning-quick first step and a compete level that is second to none, no fly balls are safe when Larissa is tracking them.  Larissa brings that same attitude and determination to the plate with a bat in her hands and puts defenders on their heels with her plus speed out of the box.  What's more impressive than her skill on the diamond is her ability to connect and engage at events with younger players who look up to her.  She is so approachable, and players gravitate to her to hear what she has to say!
Janet Leung is also from Mississauga and has a quiet confidence as she patrols the infield.  A natural shortstop, Janet can play anywhere on the infield because she is just that good.  Her defensive skills are all-world as proof in the way other international teams watch her take ground balls.  Don't sleep on her bat either as she provides gap-to-gap pop with some sneaky power!  Janet knows so much about defence, from a technical, biomechanics and mental approach that any young infielder that is lucky enough to work with her comes away from that experience as a much better player.  Janet is back with Mizuno after first signing a multi-year deal in 2019.
Dave Bartlett, Director of Sales and Marketing for Mizuno Canada had this to say about re-signing the 3 superstars, "Having known these girls for so long now, and not only seeing how far they've come as players, but watching them grow as genuine great people makes this partnership a no-brainer. They've represented our brand with such class already, we at Mizuno cannot wait to get started on planning for the next steps of these partnerships.  We look forward to providing these world-class athletes with Mizuno world-class products!"
These 3 athletes will be part of the Mizuno "head-to-toe" package that will see them use Mizuno custom ball gloves, fastpitch bats, batting gloves, custom footwear and so much more!  Please join us in welcoming these 3 incredible athletes back to the #MizunoFamily !
Organizations connected to this article
Interest areas in this article