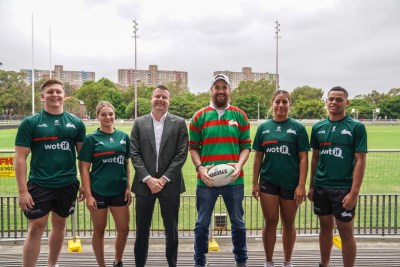 The South Sydney Rabbitohs are proud to announce leading online travel site, 
Wotif.com
 have re-signed as the Club's Official Travel Partner, Pathways Major Partner and now, will extend to join the NRL team as the Official Sternum Partner.
The Wotif logo will appear on the sternum of the Rabbitohs' home and away NRL playing jerseys, with the travel brand remaining as the major partner of the Rabbitohs' pathways.
Coming into the fourth year as the Pathways Major Partner, Wotif is passionate about supporting young and emerging talent in the Rabbitohs Pathways program which includes the NSW Cup, NSW Women's Premiership, Jersey Flegg Cup (U21s Men's), SG Ball Cup (U19s Men's), Tarsha Gale Cup U19s Women's), Harold Matthews Cup (U17s Boys), and Lisa Fiaola Cup (U17s Girls) teams.
Wotif has gone above and beyond in their involvement with the club, most recently highlighting their passion and commitment to the Rabbitohs Pathways program through their generous support for young South Sydney player, Isaiah Vailalo, and his family in 2021. Isaiah, who played in the South Sydney SG Ball Cup team in 2021, is originally from Charters Towers in North Queensland. His family had never had the opportunity to see him play in the Red and Green before. In turn, Wotif invited Isaiah's family down to Sydney on an all-expenses-paid trip to surprise him and reunite with his family on a very special occasion. You can watch the video piece here, which was produced by the Rabbitohs digital content team.
"Wotif has led the way, not only as an online travel site, providing Members and fans with great offers and discounts, but through their consistent engagement with the Rabbitohs community and genuine support of the Club's Pathways program," Rabbitohs CEO, Blake Solly, said.
"It is through the support of Wotif and our Pathways partners that we are able to have such a strong foundation of grassroots football in the South Sydney region. The likes of Blake Taaffe, Lachlan Ilias, and Peter Mamouzelos have all debuted in the NRL and were part of the 2019 Jersey Flegg Cup Premiership Winning team, and we are proud to say that Wotif has played a significant role in the development system at the Rabbitohs.
"Daniel Finch and the team at Wotif have grown their involvement with the Club annually, as has their passion and commitment for the Rabbitohs community. We can't wait to go to new heights with them this year, with the Club fielding seven Pathways teams, including three female teams, in NSWRL competitions."
Rabbitohs Members and fans will also benefit from the renewed engagement, with their dedicated Wotif travel website (
wotif.com/rabbitohs
) continuing to house accommodation discounts, promotions and more for fans into 2022. Since 2019, Rabbitohs supporters who have travelled with Wotif have saved over $40,000 and travelled to more than 200 destinations across 20 countries for holidays, work and of course to see their team play!
Daniel Finch, Wotif Managing Director said: "We're thrilled to be working with the Rabbitohs once again and supporting the next generation of sporting greats, but our support doesn't stop with the players, extending to their families and loyal fans. While accessing great offers, fans can also play their part and support the rising Pathways talent by booking through wotif.com/rabbitohs. Whether it's for a game, work, or holiday, it all counts. The Rabbitohs fan base is arguably the strongest in the league and we're proud to be a part of such a passionate community."
Solly concluded: "We're really excited about what's ahead and we hope all of our Members and supporters take full advantage of the offers Wotif provide through the travel portal dedicated to Club members at 
wotif.com/rabbitohs.
" 
Organizations connected to this article
Interest areas in this article