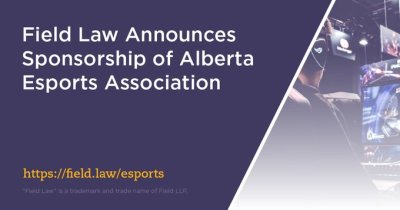 CALGARY – August 16, 2021 –Field Law's Emerging Technology group is pleased to announce a new alliance with the Alberta Esports Association (AESA), a not-for-profit organization established in 2020 that serves as the governing body for provincial esports in Alberta. 
According to Gambling.com, Canada's esports sector placed top eight in the world generating a revenue of $27.8 million in 2020. Globally, the industry is projected to increase by nearly 10% each year between now and 2023. Field Law is excited to be involved with esports in Canada, and to support a variety of activities as a partner of the AESA. 
"The esports industry is quickly taking off around the world, and we are proud to support AESA and their efforts in Alberta," said Erika Carrasco, Partner and Chair of the Emerging Technology practice at Field Law. "The world of esports can be complex from a legal perspective, and we are looking forward to providing leadership, counsel and support for this emerging industry." 
Field Law will support AESA in addressing legal questions and will welcome supporting AESA's individual members. Taking a community-first approach, AESA is working to build industry standards that protect esport athletes, while delivering events and increasing engagement from players, academic institutions, and local businesses.
"Given the ambitious and rapidly growing esports industry, legal experience in the area is incredibly valuable in developing sustainable and effective business practices as the Alberta industry continues to develop," says Tina Sang, PR Executive, AESA. "We are honoured to be sponsored by Field Law to help us propel our growth by providing guidance and insightful content from a legal perspective." 
Current AESA community partners are located throughout Edmonton, Calgary, Red Deer and beyond and range from student groups to grassroots organizations. AESA's aims to support the growth of these partners, promoting activities and events and working collaboratively to ensure the continued success of the province's overall industry.
ABOUT FIELD LAW 
Field Law is a western and northern regional business law firm, with offices in Calgary and Edmonton, Alberta, and Yellowknife, Northwest Territories. The firm is a proud, strong and independent firm with lawyers dedicated to professional excellence, client service and delivering value. More than 120 lawyers and 160 staff work together to provide a variety of legal services to businesses and institutions in corporate and commercial matters, litigation and dispute resolution, labour and employment, insurance, energy, intellectual property, privacy, professional regulatory and medical malpractice issues. Additionally, the firm provides private services to individuals including estate planning services, tax and real estate transactions. www.fieldlaw.com.  
ABOUT AESA
The Alberta Esports Association (AESA) is a non-profit organization founded in 2020 and established as the governing body for provincial esports within Alberta. AESA aims to build Alberta's esports industry with a community-driven approach to foster the growth of local communities, create opportunities for player excellence, and foster career pathways for long-term industry success. www.esportsalberta.ca.