LIVE NATION Venues Announce CLOROX Partnership And GBAC STAR™ Facility Accreditation As Fans & Artists Return To Concerts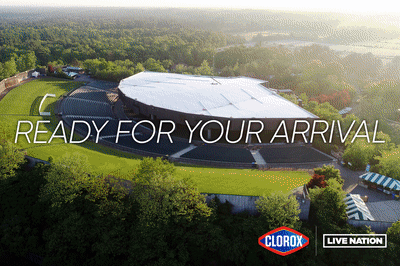 As artists and fans continue to get back to experiencing the magic of live music, The Clorox Company, a global leader in cleaning and disinfection, and Live Nation Entertainment, the world's leading live events company, today announced a multi-year agreement that makes Clorox® the Official Cleaning & Disinfecting Products partner of 90+ amphitheaters, clubs and theaters in the U.S.
The collaboration with Clorox will include the integration of several Clorox disinfecting products, including Clorox
®
 Total 360® electrostatic disinfecting devices to quickly and easily provide superior surface coverage in even the hardest to reach places. Additionally, sanitization stations will be placed throughout venues, with single-use hand sanitizers and wipes made available to fans for free during shows.
Furthering its commitment to provide clean and safe environments as shows return, Live Nation put its venue protocols for cleaning, disinfection, and prevention through external third-party review and received GBAC STAR™ Facility Accreditation, equipping it with various tools, training and guidance to ensure the gold standard in cleaning, disinfection and prevention practices across its venue operations.
"Fans and artists can't wait to reunite for amazing live music, and by partnering with Clorox we are able to maintain cleaner and safer spaces to provide everyone with more peace of mind as we return to the concert experience we all know and love," said Sherri Sosa, President, Venue Nation. "Clorox is synonymous with clean, and we look forward to welcoming their tried-and-true expertise and products into our venues across the country."
"As a leader in disinfection, Clorox is committed to helping improve the safety and well-being of people as they return to the live events, they've missed the most over the last year," said Ed Huber, Vice President and Chief Sustainability Officer at Clorox. "The pandemic has brought new and important attention to the need for greater public health best practices including cleaning and disinfection and we believe our partnership with Live Nation contributes to creating a cleaner and safer experience for everyone now and long into the future."
The integration of Clorox products will roll out across each venue as they prepare for reopening and the return of concerts. Live Nation's venues across the United States are welcoming fans back for the summer concert season, with over 60 tours kicking off in July and August. Every venue's reopening timeline will continue to follow guidance from their local health and government officials. For the latest information on shows, fans can check their local venue website.  
Organizations connected to this article
Interest areas in this article