Edmonton CFL team rebranded as Elks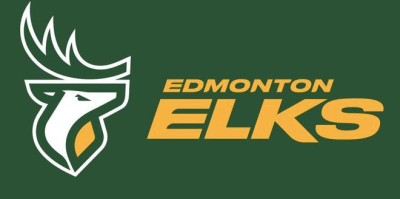 The Edmonton-based Canadian Football League team has officially announced that the Elks will be its new nickname.
According to the club, "Elk" was the overwhelming favorite among fans, players and coaches from a shortlist of seven names under consideration: Elk, Evergreens, Evergolds, Eclipse, Elkhounds, Eagles, and Elements.
An "S" was added after a consultation with linguistics experts from the Oxford Dictionary and the University of Alberta. Elk is already a plural word.
The move, which includes a new logo, comes ahead of the 2021 CFL season, which is set to start in August.
"This is not the beginning. This is a new chapter in a story that began 72 years ago officially, and over 100 years ago unofficially," said club president Chris Presson during the rebranding announcement. "Thousands have carried our torch since then, and we light it again. We build on that legacy — new name, same colours, for Edmontonians."
Last July, the team announced that some fans had become "increasingly uncomfortable" with its previous Eskimos moniker, which is considered by many a derogatory, colonial-era term for Inuits, a group of people who are indigenous to Greenland, Alaska, and Northern Canada.
The club in turn undertook a comprehensive engagement process on a new name, which included research and engagement with season-ticket holders, casual ticket purchasers, and commercial partners.
In the meantime, the club used the names "EE Football Team" and "Edmonton Football Team."
The widely-anticipated move took place after the team came under pressure from corporate sponsors to change their nickname. Canadian home and car insurance company Belairdirect said it would drop its sponsorship of the team unless a name change took place. Sports Book Interaction, the team's official online casino and gaming partner, also demanded a change in the moniker, which has been in place since the team's inception in 1949.
Edmonton's decision followed that of the National Football League's Washington Redskins, who are now known as Washington Football Team after mounting pressure from corporate sponsors, as well as fans, investors, political leaders, and the media.
"Thanks to our wonderful fans and partners across the board for their input, dialogue and debate," Presson added. "Rebranding a team is hard. Rebranding a team with 100 years of history is even more challenging and we worked hard to meld that history with something new and meaningful."
Source: https://www.sportbusiness.com/news/edmonton-cfl-team-rebranded-as-elks/?logged_in=1
Organizations connected to this article
Interest areas in this article