PFL taps Twitter for new content partnership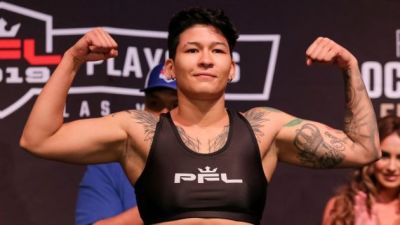 Deal covers training, walk outs, real-time highlights and press conferences.
MMA promotion to make content available on Twitter's live event page
Tie-up also includes 'The Round Up' live feed, allowing for more fan interaction during events
The Professional Fighters League (PFL) has announced a multifaceted partnership with social media platform Twitter.
The tie-up will see content from the mixed martial arts (MMA) organisation made available on Twitter through its new live event page. This includes PFL fighter training, pre-fight walk outs, real-time highlights, post-event press conferences and other fight night content.
The agreement also includes 'The Round Up', which is a live feed where influencers host a chat with fans during advert breaks and discuss the action. In addition, the PFL and Twitter will launch a hashmoji for fans tweeting about the event with #PFLMMA.
"Twitter and PFL are looking forward to advancing the sport by delivering a premium viewing experience to the 550 million MMA fans worldwide," said PFL chief executive Peter Murray. "Our partnership with Twitter, the place where MMA conversation thrives, will bring fans closer to the action by providing premium real time content for our global fanbase."
PFL strikes Globo broadcast deal for 2021 season
TJ Adeshola, head of US sports partnerships at Twitter, added: "MMA fans on Twitter are very engaged, and they're looking for creative new ways to experience fight content, directly within their timelines. The PFL delivers an innovative product for the MMA community on Twitter – and we look forward to bringing this epic partnership to life."
The PFL has also announced a new, multi-year partnership with DraftKings to becomes its official sportsbook and daily fantasy partner.
The agreement will utilise the PFL's SmartCage technology, which sees the promotion capture and distribute real-time fighter data and analytics. These are then integrated into each broadcast and across the league's digital and social channels.
The PFL says this data will eventually allow for 'innovative and distinctive' prop bets. For example, fans will be able to place a wager on whether or not a fighter will land a strike exceeding a certain speed.
Live odds from DraftKings will also be integrated into each PFL event broadcast across ESPN networks and streaming platforms.
Furthermore, DraftKings' logos will be featured in and around the PFL fighting cage, with both parties also collaborating on exclusive, themed content across their social and digital platforms.
The PFL returns for its third season on 23rd April in Atlantic City, New Jersey, having postponed its 2020 campaign due to Covid-19.
Source: https://www.sportspromedia.com/news/pfl-twitter-content-partnership-highlights-mma

Organizations connected to this article
Interest areas in this article