Guitar manufacturer Jackson partners with LCS and PENTAKILL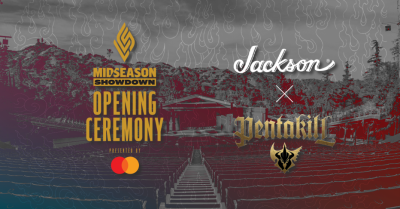 Riot Games has announced a 'global collaboration' between US-based guitar manufacturer Jackson and the developer's virtual heavy metal band PENTAKILL.
The exact details of what activations will take place have yet to be revealed. However, the collaboration is expected to showcase the 'instrument's powerful performance and distinctive style'.
This isn't the first time Riot Games has integrated brands into its virtual music groups, with K/DA collaborating with Ducati to integrate its Panigale V4 bike into the K-POP group's 'MORE' music video. 
Alongside the collaboration announcement, Riot Games also revealed that PENTAKILL will perform live at LCS's Mid-Season Showdown Opening Ceremonies Presented by Mastercard. This is the metal band's first performance since 2017.
The Mid-Season Showdown will take place on Sunday, April 11th at the Los Angeles Greek Theatre. At the opening ceremony, PENTAKILL will play a teaser of its latest newest song, which is scheduled to be released later in 2021.
In addition to Jackson's PENTAKILL collaborations, the guitar manufacturer, which was acquired by Fender in 2002, has also been announced as a partner of the LCS. As such the firm joins the likes of Grubhub, Mastercard and StateFarm as sponsors of the North American League of Legends competition.

Article by Tom Daniels as posted on https://esportsinsider.com/2021/04/guitar-manufacturer-jackson-partners-with-lcs-and-pentakill/
Organizations connected to this article
Interest areas in this article