Hush becomes the official weighted blanket of the Montreal Canadiéns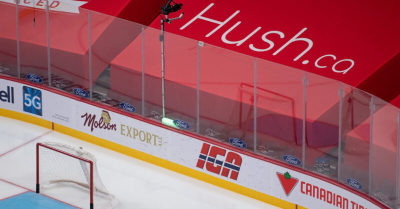 The recently famous weighted blanket brand Hush has nabbed the Habs of the NHL. It is the company's first venture in sports marketing, and they have acquired a great placement by adding themselves to the list of official sponsors for the Montreal Canadiéns.
The Montreal Canadiéns or the Habs is one of the historic teams in the National Hockey League (NHL). The professional ice hockey franchise has kicked off its highly anticipated 2021 season well-rested sleeping under the official weighted blanket of the Montreal Canadiéns.
The company's new domain, Hush.ca, was spotted recently at the Bell Centre behind the team's goalposts. Hush has recently added .ca to their website domain to emphasize that they are proudly Canadian. Their sponsorship to the most talked-about franchise in the NHL must be quite exciting for them.
The brand's display in the iconic Bell Centre, home of the Montreal Canadiéns for the last 25 years, must be exciting for Hush. With a seating capacity of 22,000, the hockey arena is one of the largest in the world and is a true downtown Montreal landmark. Even though 2020 has been a rough year for sports, we can expect big things in 2021 with the start of the new NHL season.
Article as posted on https://mtltimes.ca/life/hush-becomes-the-official-weighted-blanket-of-the-montreal-canadiens/
Organizations:
Montreal Canadiens
Hush Blankets
Organizations connected to this article
Interest areas in this article