Tennis Australia signs three sponsorship deals as Australian Open starts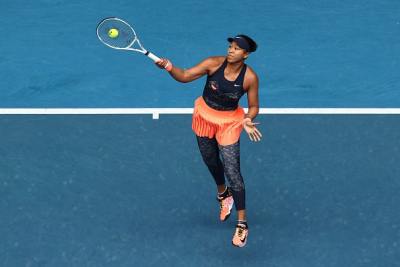 Tennis Australia has struck a new sponsorship deal with gas supplier Santos and extended deals with whisky brand Canadian Club and ride-sharing brand Uber for this year's Australian Open.
Australia-based Santos has joined as the 'Official Natural Gas Partner' of the 
2021 Australian Open
 and ATP Cup in a multi-year agreement which grants the brand on-court signage at both events (see photo).
Kevin Gallagher, managing director and chief executive at Santos, said the organisation is committed to partnerships that make a positive contribution to society, and aims to deliver a range of tennis activities for regional and indigenous communities in Australia.
"Events like the Australian Open, ATP Cup and grassroots programmes bring communities together, promote healthy living through sport and create economic opportunities for our communities," he said.
"The Australian Open is even more important in 2021 as our economy recovers from the coronavirus pandemic. It is an international event beamed to our trading partners all around the world and maintaining these connections and relationships will be vital to Australia's economic recovery."
The extended deals with Canadian Club and Uber are in the 'Official Dark Spirit Partner' and 'Official Online Food Delivery App and Official Ridesharing Partner' designations, respectively. Both are multi-year deals and focus on the Australian Open tournament only.
The Canadian Club deal is an extension of a seven-year sponsorship and will see the return of the 'C.C. Racquet Club' pop-up bar within the Melbourne Park precinct. A Canadian Club Bar will also feature on Grand Slam Oval, located in the Rod Laver Arena zone. Canadian Club is one of 
seven alcohol sector sponsors
 at this year's tournament.
Meanwhile, the Uber deal will enable users of the Uber ride-sharing app to access exclusive pick-up and drop-off zones at Melbourne Park.
The Uber sponsorship also features an 
integration with the grand slam coverage on Australia's Nine broadcast network
. The collaboration between Tennis Australia, Uber and Nine will integrate entertaining content for fans at home and in the venue to promote the Uber Eats food delivery brand.David Griffiths, head of marketing for Uber Eats ANZ, explained: "This year we're showing the 'love' to Australians right across the country by combining the very best homegrown tennis talent with one of the biggest international stars, Sacha Baron Cohen in our new campaign called 'Tonight, I'll Be Eating for Love'."
Griffiths said the campaign will "help delight existing customers…but just, as importantly, continue to drive new customers, and new ordering occasions to the platform". Uber Eats will further use their tournament affiliation to reward delivery people across the state of Victoria with 500 tickets earmarked for them to attend the opening matches.
Article by Matthew Glendinning as posted on https://www.sportbusiness.com/news/tennis-australia-signs-three-sponsorship-deals-as-australian-open-starts/
Organizations:
Australian Open
Santos
Canadian Club
Uber
Organizations connected to this article
Interest areas in this article