Formula E sponsor Hugo Boss calls for discount as Covid-19 hits hospitality asset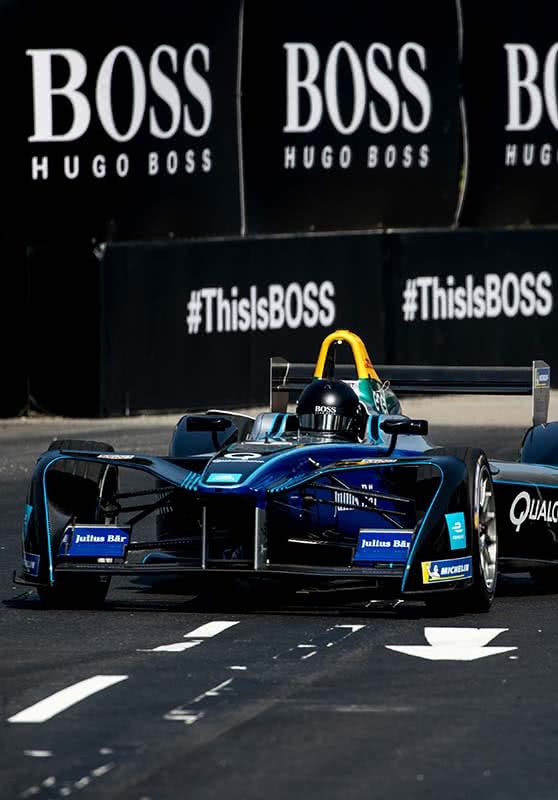 Fashion brand Hugo Boss has held talks to reduce its Formula E rights fee by 50 per cent this season, primarily because of the effects of the Covid-19 pandemic on its key corporate hospitality inventory, SportBusiness understands.
It is understood from industry sources that the fashion brand has been especially impacted by Formula E's rescheduled season, which comprises six ePrix behind closed doors, all in Berlin, from August 5 to August 13.
In February, Hugo Boss extended its official apparel partner role with Formula E for a further three seasons, until at least the end of the 2022-23.
Under the extension, Hugo Boss will continue to dress Formula E staff, senior management and volunteers, and put its name on the hospitality asset 'Boss Emotion Club' at every ePrix.
The latter part of the deal is the most significant asset because the Emotion Club is Formula E's most premium hospitality area – and was rebranded in 2018 to give Hugo Boss the title designation.
Without the ability to activate the branded hospitality area and host guests in locations initially on the 2019-20 race calendar like Rome, Paris, New York and London, the sponsorship delivers less value for the brand.
Motorsports industry experts have indicated to SportBusiness that other team and central sponsors of Formula E have sought to resolve the perceived value shortfall from the rescheduled season either through negotiated discounts or making-good arrangements for next season.
Sponsors are not uniformly affected. For example, central sponsors with TV-facing visible inventory retain media value, while business-to-business brands that help deliver the sport, such as Allianz and DHL, can continue to showcase how they insured or handled logistics for Formula E through the pandemic.
Experts also believe that the sustainability credentials of Formula E predispose sponsors to long-term commitments that will survive the current crisis.
Formula E and Hugo Boss both declined to comment when contacted by SportBusiness.
Boss extension
This year's Hugo Boss extension was a joint decision driven by outgoing chief executive Mark Langer and the global marketing and sports sponsorship team at Hugo Boss.
It was Langer who instigated the sponsorship switch from Formula One – where Hugo Boss sponsored the Mercedes F1 team until the end of 2017 – to Formula E in 2017-18, describing it as the biggest change initiated during his tenure. In March, it was announced that Langer would stand down by mutual consent in September 2020.
Experts estimate the rights fee paid by Hugo Boss at between €2.5m ($2.9m) and €3m per year.
Hugo Boss told SportBusiness in April that it had evaluated the success of the first cycle on a number of metrics, including "perceived increased brand awareness and touchpoints with potential customers, as well as a wider reach that includes a new target audience, especially when it comes to social media".
Seeing more car manufacturers and other big brands join the series had also confirmed the growing relevance of Formula E in general, the company said. Hugo Boss, for example, signed as a sponsor of the Porsche Formula E Team in November 2018, paying about €500,000 per year.
The broader strategy is around the brand's "strong commitment to innovation and sustainability" with Formula E.
The company said: "The goal was to build a long-term relationship in a relevant field of sports that also appeals to a new, urban, digitally-savvy target group with fresh, emotional content. It increases both the awareness and the desirability of the Boss brand while demonstrating a commitment to innovation."
Formula E represents about a quarter of the brand's annual sponsorship spend of about €16m per year, which also includes properties in football, sailing and golf.
Financial pressures
Motorsports experts understand that other factors have driven brands, more generally, into discount negotiations, including financial pressures brought on by the pandemic.
In the case of Hugo Boss, the brand's stock on the Xetra Exchange [Frankfurt] has slumped by 50 per cent in the last year with the steepest falls coming since the end of February when the company's share price was trading at about €40. Hugo Boss was trading at about €24.60 on July 23.
Market capitalisation has fallen from about €3bn to €1.8bn over the period from end of February, making the company more affordable for bids to blocks of shares from interested groups such as Mike Ashley's Frasers Group, formerly Sports Direct, which acquired more than five per cent in June, and the Marzotto Italian textile-manufacturing family, which increased its stake from 10 per cent to 15 per cent in February.
Article by Matthew Glendinning as posted on Sport Business.
Click
here to view Formula E's
profile.
Click
here to view Hugo Boss'
profile.