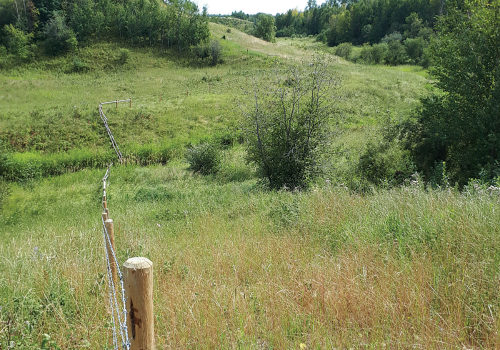 Three hundred acres of farmland across Canada will be transformed into 
conservation projects
 thanks to a sizable sponsorship from TD Bank Group to ALUS Canada's New Acre program.
"The TD sponsorship is an indication that the private sector recognizes the value of this kind of work and is willing to put money behind it," said Katherine Balpataky, director of corporate partnerships and business 
development at ALUS
 Canada.
"We know that restoring nature on the landscape has many benefits for both farmers and their communities, and this sends a signal to farmers that this kind of land management is valued by not only the bank but also by society at large."
ALUS Canada — a national program that compensates farmers and ranchers for providing 'ecosystem services' on their land — launched the New Acre initiative in 2016 as a way to help companies fund conservation projects on Canadian farms while paying producers for preserving the land.
"Increasingly, we're seeing that business leaders are paying attention to what their stakeholders are demanding of them, and what they're hearing more and more is that the private sector has a role to play in improving the environment and the resilience of communities," said Balpataky.
"We created the New Acre program as a mechanism to connect those business leaders that have an interest in environmental outcomes with the farmers and ranchers who are delivering environmental outcomes at the community level."
And with its recent two-year commitment of $220,000, TD Bank Group has secured its spot as the launch sponsor for the New Acre program.
"It's a little bit risky to be the first company to jump on board any new initiative, but they believe very strongly in the outcomes from the program and what the farmers and ranchers who are involved are doing," said Balpataky.
"So they're the first, and we're really thrilled to be aligned with them."
These funds will help create and maintain 300 acres of projects in eight ALUS Canada communities across the country, including in Lac Ste. Anne County and Red Deer County here in Alberta. One project in Saskatchewan (ALUS Saskatchewan Assiniboine Project) will also receive support, along with one in Manitoba (ALUS Little Saskatchewan River), three in Ontario (Elgin County, Middlesex County, and Peterborough County), and one in Quebec (in the Montérégie region.)
"TD looked at areas where they have a high level of engagement from within the agricultural community," said Balpataky, adding TD reps visited ALUS projects and met with farmers to see the work first hand.
"They wanted a program that has tangible environmental impacts that will improve the lives of Canadians and that will really have an impact on society at large."
And ALUS Canada seems to fit the bill. Since its launch in 2006 in Manitoba, the amount of land in its program has grown to nearly 24,000 acres in 25 communities across six provinces, including 13,400 acres in Alberta alone.
"For our national program, Alberta's footprint is larger than anywhere else in the country, which really demonstrates the spirit and interest of the farming community to take an active role in improving the environment," she said.
"The growth has happened really organically but really quickly and in a really wonderful way. It's been tremendous."
Balpataky credits that growth to the farmers themselves and the leadership role they're taking in preserving the environment.
"Farmers are stewards of the land," she said. "They're in the best position to take an active role in some of these challenges that society is tackling. They're smart, and they're interested in responding. So there's definitely strong uptake in the program."
And TD Bank Group's sponsorship has shown that paying farmers for these ecosystem services "makes practical sense," she added.
"We believe there is great potential to draw on farmers and ranchers to mitigate many different kinds of environmental risks that affect businesses," said Balpataky.
"Healthier, more resilient communities are good for everybody's business."
Click
here to view TD Bank's
profile.
Organizations connected to this article
Interest areas in this article